With the rise in popularity of sleek, streamlined four-door coupes, BMW responds by revealing a concept to compete in the 4-door sports luxury segment.
Sporting the 'Gran Coupe' moniker, the BMW Concept M8 Gran Coupe debuted in Geneva Motor Show with a slight glimpse of what the future holds for BMW.
With a more aggressive design language, the silhouette that the M8 has revealed a lot of where the company wants to go: masculine, very upfront almost bull-like nose, and a sleeker backside. It pulls off a sexier look than the more contemporary rivals like the Audi 7-series, or the S-Class Coupe… But with more doors.
Don't ask us how these segments work because we're just as confused as you are. While these are concept cars, we hope that the car goes into production with the same dichromatic paintwork called 'Salève Vert'. I think that means a shade of green.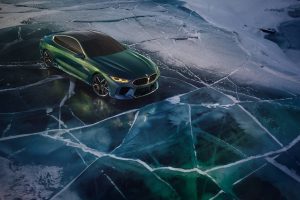 What's funny are the stock photos look to be a nighttime rendezvous on top of a frozen lake, so that means that the M8 concept is cooler than what you have? Or a nod to James Bond and Die Another Day?
What's probably going to happen is it will definitely have a Gran-Turismo vibe so it'll have an old-school automatic transmission rather than the jolting DSG dual-clutch, maybe XDrive, and cross fingers, working quad exhausts(!)
Here's to hoping our prayers get answered. Are you listening, Bavaria?!