Pictured above: Mario Andretti in a Red Bull Racing F1 simulator
Sim Racing Officially a Recognized Motorsports Discipline in Germany
Germany's motorsports governing body – Deutsche Motor Sport Bund (DMBS) – has declared Sim Racing as an official motorsports discipline. To me, this comes as no surprise as these days the proliferation of technology has blurred the lines between what is real and what is well… simulated, I suppose. In fact I myself am a sim racer and the part owner of a sim racing rig/business – so, this also comes as wonderful news.
Pictured above: Our business' racing simulator rig
Racing simulators – via a combination of software and hardware peripherals – have benefited immensely from these ongoing advancements. Platforms such as iRacing, Assetto Corsa, Forza Motorsport and Gran Turismo provide the playing field on which users can experience and race a variety of real-world cars and tracks. Peripherals such as direct steering motors, motion actuators, hydraulic pedal systems and VR headsets generate tactile realism and provide the level of immersion necessary to make you feel like you're controlling a real car, from inside a real cockpit.
Gone are the days when racing-inspired programs were just your kids' video games, with their only connection to the real world being the themes on which they were based. The level of detail, accuracy and "true-to-life" physics modelling in the aforementioned platforms is such that racing simulators are renowned as a legitimate training tool for many of the world's top real life racers.
Speaking from personal experience, I can say that this is certainly the case. For example – if you're both fortunate and good enough –  you might find yourself in a race with the likes of Formula 1 drivers, such as Lando Norris and Max Verstappen in the sim racing world. Out of your own curiosity, you can also view their online profiles (in this case, on iRacing.com) and see that they've dedicated a significant amount of hours and laps into the platform.
You can also see that they're putting down lap times which humbly remind you why they're professional F1 drivers – and you're not…not yet, anyways – and perhaps more importantly, that the simulator has accurately reflected this. Lando Norris has also gone on the record to credit sim racing in having played a key role in developing his driving skills, on his journey to become an F1 driver. His instagram account for example, has media related to his home-based simulators for which he clearly shows much enthusiasm.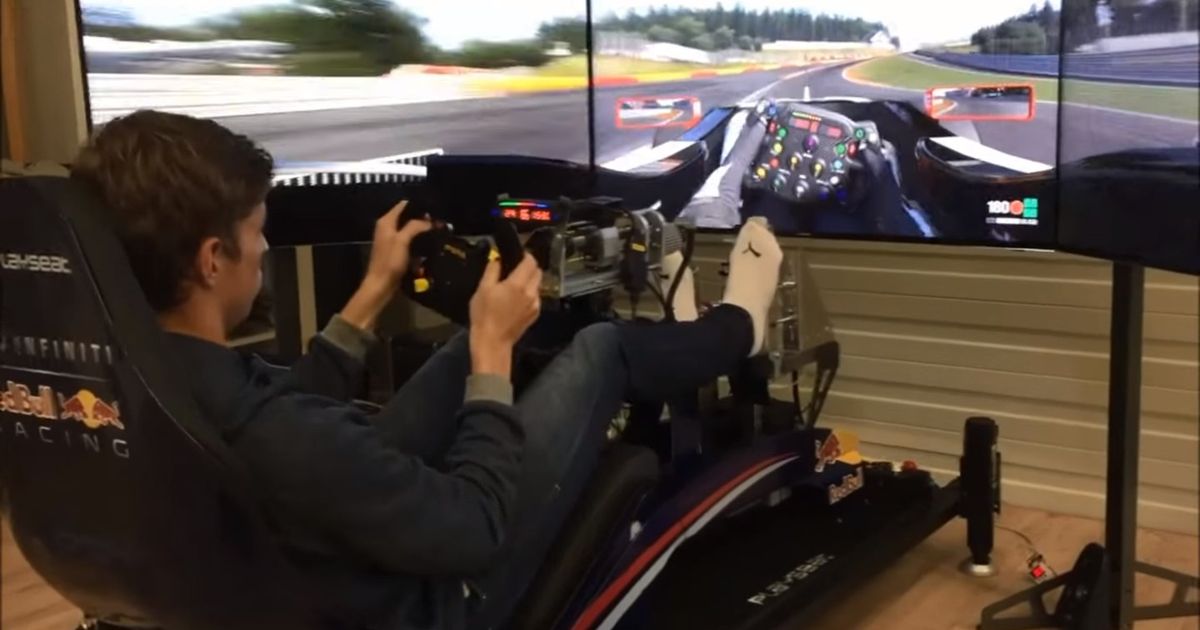 Pictured above: Lando Norris and Max Verstappen (2nd) in racing sims
The DMBS' decision to give sim racing this much recognition is a step in the right direction, and hopefully propagates its popularization on a more international basis. Already, Formula 1 and Formula E have their own dedicated eSports leagues while titles such as iRacing and Gran Turismo are known to have afforded the top talents in their respective pools with professional opportunities in real-world racing. Being a dedicated sim racer can be financially lucrative at the highest levels too, should one decide that they prefer to keep their racing online, rather than outside.
The fact that sim racing can stand on its own as a motorsport discipline – in a country where motorsports is extremely popular – is proof that it is a legitimate and proper platform in which one can train and compete in motorsports. This is in addition to the fact that sim racing has some very notable benefits to it; no barrier to entry (age, experience, etc.), relatively low financial costs vs. real racing (free gas, tires, brake pads, engines, repairs, etc.), and no real-life risks of physical harm to either car or driver.
While it could still be some time before sim racing is considered more than 'just another video game' by the mainstream community, I can only see things getting better as time goes on and advancements continue to improve and promote the genre.