The Challenge
On May 4-6 the third of seven Ferrari Challenge races took place at the recently renamed WeatherTech Raceway Laguna Seca situated near Monterey, California. Beginning in January and ending in November, this series consists of five races taking place in the USA, one in Canada, with the last, Finali Mondiali, scheduled for the Autodromo Monza in Italy.
The other race tracks are Daytona, Daytona Beach, Florida, Circuit of the Americas, Austin, Texas, Watkins Glen International, Watkins Glen, New York, Road Atlanta, Braselton, Georgia, and Circuit-Gilles-Villeneuve, Montreal, Canada.
Ferrari at Laguna Seca
At Laguna Seca, the weather complied nicely with sun filled skies and a pleasant moderate temperature just cool enough to keep spectator's energy high.
WeatherTech Raceway is made up of 11-turns and 180 feet of changes in elevation over its 2.24 undulating miles. The famed Corkscrew at Turns 8 and 8A, a precipitous drop corkscrew-style, lies track-opposite of the long straight.
Another notable point of the track is the Andretti Hairpin, Turn 2 just past the bridge and Media Center. During these races cars were generally circulating in several various sized groups, indicating some good battles on track.
Touring Ferrari's Legacy
When not watching the practice sessions, the qualification runs, or the actual races, the Ferrari owners car corral is a good place for Tifosi (the Ferrari faithful), and others also, to explore Ferrari's legacy.
Ferrari models dotting the decades can often be found there. Compare how Ferrari styling changed over time, model to model. There's plenty of impact standing right next to the cars. Vehicle attendances in the corral peaks and dips over the course of the three-day event, so a schedule inquiry a few days ahead may suggest some best times.
I made several rambles through the Ferrari owners car corral and spotted a stunning 599 in candied-apple red, a black Mondial with California plates stating "Historical Vehicle", and many more all worth a long look.
For sure, walking through the extensive paddocks is always a fascinating excursion. My several tours through different segments of the paddocks revealed plenty of activity – mechanics preparing the cars to race by mounting new rubber from tall stacks of fat, sticky tires, getting fuel into the tank, and doing the myriad of other activities required to get cars on the track. Often team members assist the driver in getting situated inside the car, which sometimes involves a lengthy discussion.
First Foray into the Corral
On my first foray, I found a mechanic temporarily unoccupied. I asked how Ferrari's race cars differed from their streetcars. He explained, "Very little. The main differences are in the front and rear deck lids and the interior, which includes the roll cage".
Obviously, Ferrari wants to demonstrate that their street cars are also track-worthy. And all of us have probably heard Ferrari say that racing is in their DNA. Totally believable! For more of the paddocks, see some of my photos of race cars there. Team members are welcome to watch but not impede their work.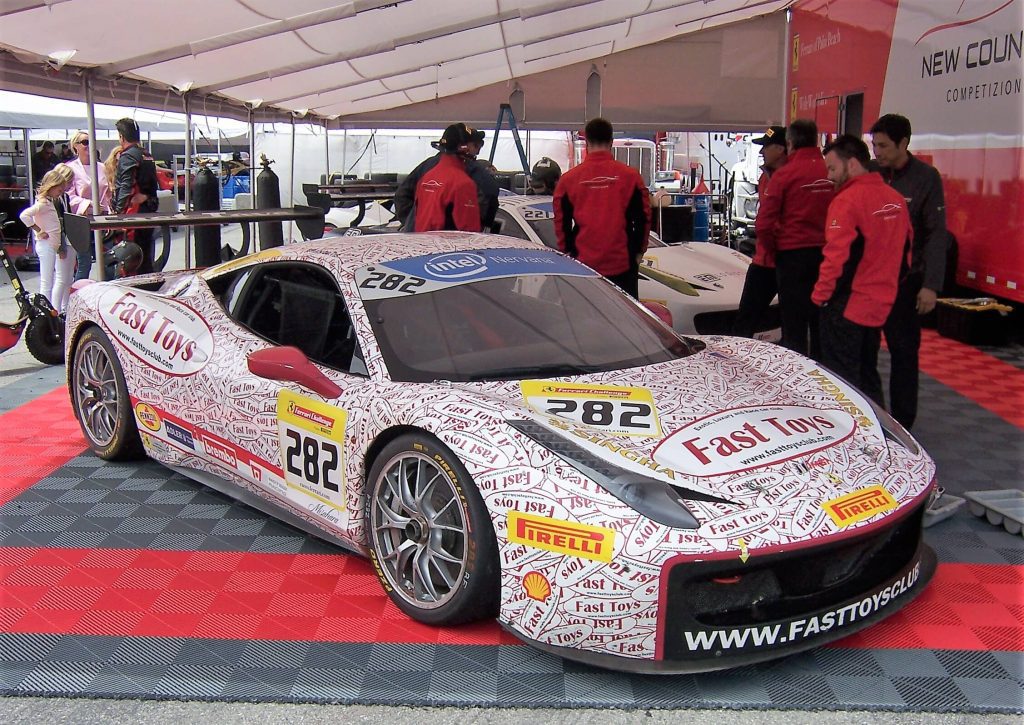 It seems like the paint on the Ferrari Challenge race cars gets more decorative each season. Several Ferrari 488s in the paddocks really grabbed my attention with their exotic paint and décor, although at least part of the "paint" is usually a stick-on vinyl wrap. The wrap is literally indistinguishable from paint unless closely scrutinized.
Viewing the displays that Ferrari brings just for the event showcases the latest in styling, performance, and technology from the Prancing Horse. The display may be the actual model of a new supercar recently introduced, or the evolution of a current model, but I have never been disappointed.
The Race Models
This year Ferrari brought the 812 Superfast (2017 – present), the GTC4Lusso T (2017 – present), and a 488 Spider introduced at the Geneva Motor Show in 2018. Each was very impressive.
Ferrari 812 Superfast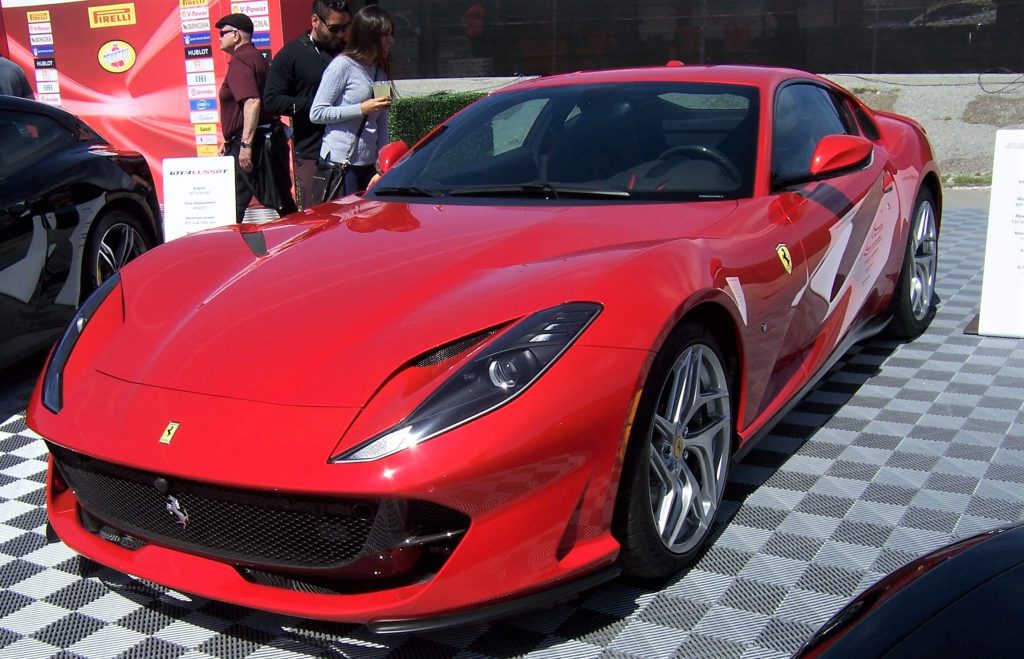 The dazzling red Ferrari 812 Superfast had great lines and styling rich with complexity. Model 812 is powered by 6.5-litre naturally aspirated V12 that produces nearly 790 bhp at 8,500 rpm, and 530 ft-lb of torque at 7,000 rpm, delivered through a 7-speed dual-clutch gearbox.
This Superfast appears to be the most powerful naturally aspirated petrol-powered production car engine that has ever been produced! With that kind of power, if it wasn't for the Ferrari suspension even a wheel-stand wouldn't be surprising.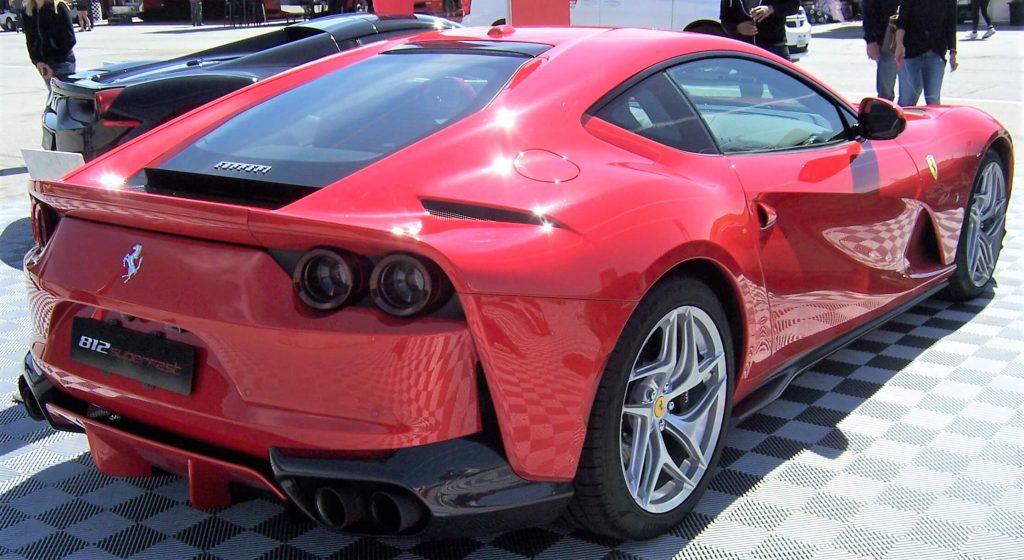 The engine of this two-door Berlinetta grand tourer is mounted front-mid, meaning the engine's center of mass is in arrears of the front axle. The car boasts a top speed of 211 mph and an acceleration time from 0–60 mph of very near 2.8 seconds, all with a curb weight of 3,594 lbs. Breathless!
Ferrari GTC4 Lusso-T
The Ferrari GTC4 Lusso-T four-seater is a follow-on version of the V12 all-wheel-drive GTC4Lusso. The T employs rear wheel drive and a 3.9-litre twin-turbo V8 producing 602 hp at 7,500 rpm, and just over 560 ft-lb of torque at 5,250 rpm. The T can achieve within a mile or two of 200 mph and accelerates from 0-62 mph in 3.5 seconds. Not too bad for a four-seater!
Ferrari 488 Spider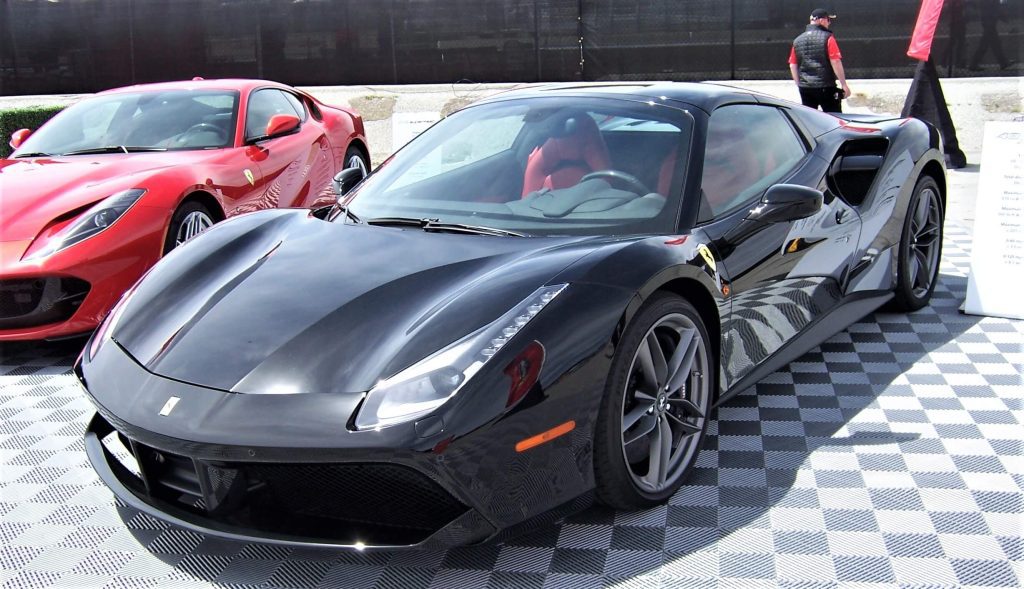 The 488 Spider is a twin-seat version of the 488 employing a folding hardtop. I like the folding hardtop concept. I once owned a rag-top convertible (not Ferrari). I eventually sold it due to wind noise with the top up, although some of my passengers didn't notice the disturbance.
The Spyder at Laguna Seca appeared in all black. I usually prefer Ferraris in red, but there are other colors I think fits certain Ferrari models well. Of course, color is a personal preference. This Spider was radiantly-stunning in black. Performance numbers are very close to its predecessor, the 458 Spider.
Race Results
TP – Trofeo Pirelli
TP AM – Trofeo Pirelli AM
CS – Coppa Shell
CS AM – Coppa Shell AM
Race One, Saturday, Top Three
Race 1 – 458
| | | | | | |
| --- | --- | --- | --- | --- | --- |
| Position | Driver | Team | Vehicle | Laps | Total Time |
| 1st | Martin Burroues | Ferrari Ft. Lauderdale | 458 Challenge EVO | 20 | 30:34.136 |
| 2nd | Trevor Baek | R Tonkin Gr Turismo | 458 Challenge EVO | 20 | 30:34.783 |
| 3rd | F Priovanetti | Ferrari Ft. Lauderdale | 458 Challenge EVO | 20 | 30:44.064 |
Race 1 – TP, TP AM
| | | | | | |
| --- | --- | --- | --- | --- | --- |
| Position | Driver | Team | Vehicle | Laps | Total Time |
| 1st | C MacNeil | Ferrari of Beverly Hills | 488 Challenge | 21 | 31:24.919 |
| 2nd | Marc Muzzo | Ferrari of Ontario | 488 Challenge | 21 | 31:33.641 |
| 3rd | Joseph Rubbo | Ferrari of Long Island | 488 Challenge | 21 | 31:34.329 |
Race 1 – CS, CS AM
| | | | | | |
| --- | --- | --- | --- | --- | --- |
| Position | Driver | Team | Vehicle | Laps | Total Time |
| 1st | Thomas TIPPL | Ferrari of Beverly Hills | 488 Challenge | 20 | 32:35.848 |
| 2nd | Mark Fuller | Ferrari Westlake | 488 Challenge | 20 | 32:36.556 |
| 3rd | Richard Baek | R Tonkin Gran Turismo | 488 Challenge | 20 | 32:37.344 |
Race Two, Sunday, Top Three
Race 2 – 458
| | | | | | |
| --- | --- | --- | --- | --- | --- |
| Position | Driver | Team | Vehicle | Laps | Total Time |
| 1st | Martin Burroues | Ferrari Ft. Lauderdale | 458 Challenge EVO | 20 | 30:22.137 |
| 2nd | Trevor Baek | R Tonkin Gr Turismo | 458 Challenge EVO | 20 | 30:31.618 |
| 3rd | Phil Trigiani | Ferrari Ft. Lauderdale | 458 Challenge EVO | 20 | 30:55.769 |
Race 2 – TP, TP AM
| | | | | | |
| --- | --- | --- | --- | --- | --- |
| Position | Driver | Team | Vehicle | Laps | Total Time |
| 1st | Peter Ludwig | Wide World Ferrari | 488 Challenge | 21 | 31:20.663 |
| 2nd | Joseph Rubbo | Ferrari of Long Island | 488 Challenge | 21 | 31:26.279 |
| 3rd | Chris Cagnazzi | Ferrari of Long Island | 488 Challenge | 21 | 31:29.480 |
Race 2 – CS, CS AM
| | | | | | |
| --- | --- | --- | --- | --- | --- |
| Position | Driver | Team | Vehicle | Laps | Total Time |
| 1st | Thomas Tippl | SC Ferrari Beverly Hills | 488 Challenge | 20 | 30:17.126 |
| 2nd | Chris Carel | SC Ferrari Beverly Hills | 488 Challenge | 20 | 30:24.861 |
| 3rd | M Fassbender | Ferrari North America | 488 Challenge | 20 | 30:25.328 |
Ferrari Challenge Image Gallery