2018 911 GT2 RS
Introduction
An introduction to a car that really needs no introduction. Cliché perhaps, but what needs to be said about the fastest production car to lap the Nürburgring Nordschleife?
Quite a lot, actually.
The rear-engine, rear-wheel drive GT2 RS celebrated its official world premiere at the Goodwood Festival of Speed in the UK which took place from June 30th to July 2nd, 2017. It was here that the world was first introduced to Porsche's fastest and most powerful street-legal 911 ever made.
A few months later, the same car would go on to smash the lap record at the what has become the de facto manufacturers' testing grounds – a place where those who reigned supreme earned bragging rights in the industry.
With a Nurburgring time of 6 minutes 47.3 seconds, it completed the 'ring 5 seconds faster than the Lamborghini Huracán Performante and 10 seconds faster than Porsche's own million dollar 918 Spyder.
View the official onboard-footage of the lap here
Suffice to say, the 911 GT2 RS now sits on the throne – equipped with its 3.8L flat-six twin-turbocharged 700 horsepower engine – with an unquestionable legitimacy to its claim.
It didn't get to the top with brute force alone – the GT2 RS is built to be as dexterous as it is powerful. Extensive work was done on the chassis to ensure that the agility and precision of the car were not overwhelmed by its own muscle, but rather, complemented by it.
The Porsche 911 GT2 RS represents everything that is the best about the 911 – a righteous Ruler, indeed.
Engine & Performance
The GT2 RS in its entirety is more closely based on a Turbo S than it is to its closest GT relative, the 911 GT3 RS. Afterall, at the heart of the GT2 is a revamped version of the Turbo S engine, while the GT3 has its own unique naturally aspirated 4.0L power plant.
The 3.8L flat-six was fitted with larger variable-geometry turbos and was given an increase in peak boost to 22.5 psi, which is 24% higher than the Turbo S. Larger intercoolers, a water-spray system, larger exhaust manifold primaries and redesigned pistons work in synergy with the aforementioned to provide the GT2 RS with 700 horsepower @ 7,000 rpm and 553 lb-ft of torque. Porsche has long buried the traditional notion of "turbo-lag" in its cars with VarioCam Plus and the GT2 RS is no different, making peak torque from 2,250 rpm to 4,000 rpm.
To accommodate what is a 120 horsepower increase over the Turbo S, the 7-speed PDK transmission was also beefed up. Porsche does not offer a manual transmission option for the GT2 RS, which is sensible given that the dual clutch transmission is the best (and therefore, only) choice for delivering power to the rear wheels for this application.
The resulting figures are impressive, to put it mildly; Porsche states that the GT2 RS is able to sprint from 0-60 mph in 2.8 seconds, 0-100 mph in 5.8 seconds, 0-124 mph in 8.3 seconds and has a top speed of 211 mph. Independent tests have shown that Porsche has understated these figures.
Chassis & Handling
Improvements to the chassis are certainly no less impressive than those made to the engine. Virtually no part of the GT2 RS has been overlooked with regards to delivering the driver to the limits of dynamic driving performance.
The front axle utilizes a MacPherson strut suspension with helper springs and wheels independently suspended on the trailing arms and wishbones. A multi-link axle with helper springs and subframe setup is used for the rear.
Ride height, camber, wheel track and stabilizers can be adjusted individually by the driver – very useful features for specifically setting the car up for track use. For the first time in a street legal Porsche vehicle, all chassis joints have been replaced by ball joints which improve rigidity and feedback from the chassis. Porsche states that this ensures "accurate, sharp and direct road holding. And for total emotional contact".
Porsche engineers weren't void of all sense of practicality on the street either. An optional lift system on the front axle lifts the front bumper by 1.2" and is functional while moving until approximately 37 mph – allowing you to avoid scraping the front bumper over the pesky curbs, ramps or entrances that inundate daily driving.
The standard Porsche Carbon Ceramic Brakes and rotors provide the stopping power and precision worthy of car's overall performance. Unfaltering in their duty, they slow the car down with great aplomb and without any hint of brake fade – pedal feedback remains consistent even after repeated moments of substantial braking Gs. Dunlop Sport Maxx Race tires (265/35/20 at the front, 325/30/21 at the rear) translate it all onto the tarmac.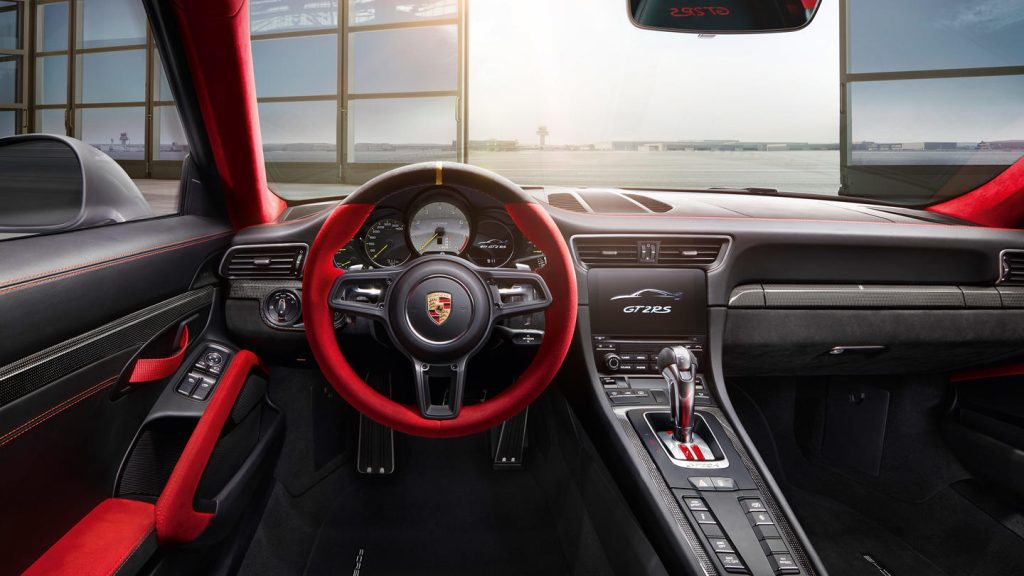 Design, Styling & Interior
Based on the extra-wide body of the 911 Turbo S, the GT2 RS design is one which is race-optimized. Minimum drag, maximum downforce, optimum cooling – all in great abundance and meticulous in detail.
The aerodynamic front bumper ensures optimum cooling and airflow into the radiator while providing massive downforce on the front axle with the attached wide spoiler lip. Large vents placed over the front fender wheel arches assist in ventilating pressure from the rotating wheels. Two ducts on the bonnet, referred to as NACA air intakes, are used to help cool the braking system without reducing the drag coefficient.
At the rear of the car are the very distinguishable side air intakes; located near the rear wheel arches, they provide intercooling and feed extra air into the twin-turbocharged engine. The most notable feature of the car in plain sight would be the fixed carbon rear wing, which enhances much needed aerodynamic downforce over the rear wheels while highlighting the ultra-high performance orientation of this machine.
Weight is also shaved over the Turbo S through a multitude of upgrades. The absence of the front axle on its own removes over 110 lbs. Naturally, carbon fiber adorns both the exterior and interior – the bonnet, rear bumper, intakes, intercooler, bucket seats, and even paddle shifters, being amongst the many parts not overlooked for the carbon diet.
The standard GT2 RS is 3,241 lbs – a noticeable 286 lbs lighter than the Turbo S. Optional deletion of the air-conditioning and infotainment system will save another 41.9 lbs while the optional Weissach package – which includes magnesium wheels, a titanium roll bar (Europe only) and carbon fibre anti-roll bars – will shed another 60 lbs on top of that.
Pricing
The GT2 RS is the pinnacle of the 911 in performance, and also in price.
Base price of the GT2 RS is $294,250 USD with the optional Weissach package bringing the total to $325,250 when included.
This means that pricing is comparable to the Lamborghini Huracan Performante – which it trumped for first place at the 'ring – and less than one-third the price of the discontinued Porsche 918 Spyder which it outdid by 10 seconds at the same venue.
At the least, this makes the GT2 RS very appropriately priced – if not a bargain – considering everything the car has to offer and when compared to its competition.
Performance & Specifications Summary
Model & Price Info
| | |
| --- | --- |
| Make | Porsche |
| Model | 911 |
| Generation | 991 (2012-Present) |
| Sub-Model | GT2 RS |
| Car type | Coupe |
| Category | Series Production Car |
| Built At | Stuttgart, Germany |
| Released At | Goodwood Festival of Speed, UK |
| Introduced | 2017 |
| Base Price (US) | $294,250 |
| Base Price (UK) | £207,506 |
| Units built | TBD |
Body, Suspension & Powertrain
Curb Weight

1,470 kg (3,241 lbs)

Layout

Rear-engine, rear-wheel drive

Body / Frame

Aluminum-steel composite monocoque, carbon fiber elements

Suspension (F)

MacPherson strut suspension with helper springs

Suspension (R)

Multi-link axle with helper springs and subframe

Engine

Flat-6

Position

Boxer, 90

°

Aspiration

Twin-turbocharged, intercooled

Block Material

Aluminum block and heads

Valvetrain

DOHC, 24-Valve (4 Valves per Cylinder) with VVT & VarioCam Plus

Fuel Feed

Direct Fuel Injection

Displacement (Litres)

3.8L

Displacement (in³)

232 in³, 3800 cc

Transmission

7-speed DCT with automatic and manual shifting mode (PDK)
Engine & Output
| | |
| --- | --- |
| Power (hp) | 700 hp @ 7,000 rpm |
| Power (hp) / litre | 184.2 hp / litre |
| Power (hp) / weight | 0.48 hp / kg |
| Torque | 553 lb-ft @ 2,250-4000 rpm |
| Efficiency | 59 hp per l/100 km |
| Average Fuel Consumption | 11.8 l/100 km (combined) |
Performance & Acceleration Stats
| | |
| --- | --- |
| Top speed | 340 km/h |
| 0 – 40 km/h | 1.1 s |
| 0 – 50 km/h | 1.2 s |
| 0 – 100 km/h | 2.8 s |
| 0 – 150 km/h | 5.2 s |
| 0 – 160 km/h | 5.5 s |
| 0 – 200 km/h | 8.1 s |
| 0 – 250 km/h | 13.0 s |
| 0 – 300 km/h | 22.1 s |
| 0 – 60 mph | 2.7 s |
| 0 – 100 mph | 5.8 s |
| 1/8 mile (est.) | 6.9 s @ 111.2 mph |
| 1/4 mile | 10.3 s @ 139.2 mph |
| 1/2 mile (est.) | 16.4 s @ 164.0 mph |
| 1000 m | 18.7 s @ 281.2 km/h |
| 100 – 200 km/h | 5.5 s |
| 200 – 300 km/h | 13.8 s |
| 100 – 0 km/h | 29 m (96 ft) |
| 200 – 0 km/h | 115 m (376 ft) |
| 300 – 0 km/h | 243 m (796 ft) |
| 18 m slalom | 76.5 km/h |
| Nürburgring Lap Time | 6:47.30 (Driver: Lars Kern) |
Gallery & Videos
Image Gallery
Aggressive queues are found throughout every part of the body, always taking aerodynamics and cooling into consideration. Whether it be the large rear spoiler, front fender vents, or antagonistic front bumper, the GT RS looks outstanding, but not awkward.
In my opinion, the GT2 RS is as beautiful as it is functional – a perfect blend of form and professionalism, it performs its duties in the utmost style. A car that goes this fast, needs to look the part.
Video Review Gallery
Here are some YouTube video reviews from some of my favorite car reviewers and auto personalities. All of them provide feedback from an "everyday guy" perspective – but aren't afraid to thrash the car around a racetrack when given the opportunity – providing commentary that is both technical and easy to absorb.
First up is Matt Prior from Autocar, doing his commentating-while-driving-sketch in a Weissach package equipped GT2 RS. He goes into detail about how "absolutely bang-on" the car is while referring to the RS series' evolution from a "widow maker" to a refined road carving machine.
[embedded content]
Next, is CAR Magazine UK's Chris Chilton providing his point of view on what he describes as one of "the best driver's cars in the world".
[embedded content]
What two-time World Rally champion Walter Rohrl has to say, carries a lot of weight. Watch as CarBuzz and Mr. Rohrl show us what the GT2 RS can do on the track at Algarve International Circuit in Portugal.
[embedded content]
Last but not least, is Porsche's official onboard footage of that record-setting lap by Lars Kern at the Nürburgring Nordschleife. It even provides some telemetry. Very neat. Very fast. Very g-force.
[embedded content]
Original Press Release
Porsche Unveils The Most Powerful 911 Of All Time, June 30th 2017
The fastest and most powerful road-approved 911 is ready for launch: The new Porsche 911 GT2 RS will celebrate its world premiere at the Goodwood Festival of Speed in the UK (June 30 to July 2).
At the heart of this high-performance sports car is a 515-kW (700-hp; combined fuel consumption: 11.8 l/100 km; urban: 18.1 l/100 km; extra-urban: 8.2 l/100 km; CO2 emissions: 269 g/km) biturbo flat engine. Weighing in at 1,470 kg with a full fuel tank, the lightweight two-seater accelerates from zero to 100 km/h in 2.8 seconds.
The rear-wheel drive Coupé has a top speed of 340 km/h, and with its near-motorsport drive technology, the new 911 GT2 RS trumps its 3.6-litre predecessor by 59 kW (80 hp) and achieves a torque of 750 Newton meters (an increase of 50 Nm).
The engine builds on that in the 911 Turbo S at 427 kW (580 hp; combined fuel consumption: 9.1 l/100 km; urban: 11.8 l/100 km; extra-urban: 7.5 l/100 km; CO2 emissions: 212 g/km). In order to increase performance, large turbochargers push an increased volume of process air into the combustion chambers.
A new additional cooling system delivers optimum cooling at peak loads and, at very high temperatures, sprays the charge-air cooler with water. This causes the gas temperature to fall in the overpressure range and ensures optimum power output, even under extreme conditions.
The customized GT seven-speed double-clutch transmission (PDK) in the new GT2 RS enables power to be transferred with uninterrupted traction. What's more, the specially developed exhaust system is made from extra-lightweight titanium, weighs around seven kilograms less than the system used in the 911 Turbo and delivers an emotional sound without precedent.
The 911 GT2 RS
For the first time ever, Porsche Design is celebrating the debut of the high-performance sports car by releasing a special-issue watch. Offering a nod to the world of motorsport, the 911 GT2 RS watch is exclusively available to owners of the new vehicle and can only be ordered in conjunction with the new GT model at a Porsche Centre from June 30, 2017.
Racing Chassis For Outstanding Dynamic Cornering
Discipline in sport means mastering every detail. And in the world of super sports cars, cornering speeds are on another level. The 911 GT2 RS reaches these speeds thanks to its flawless racing chassis with rear-axle steering and Ultra High Performance (UHP) tires.
Like all GT sports cars, the new top model features a specially calibrated PSM with a Sport mode that is tailored to provide optimal driving dynamics. Powerful air intakes and outlets and the imposing rear wing emphasize that the vehicle's aerodynamics have mastered both form and design. The large, wide wheels (265/35 ZR 20 at the front and 325/30 ZR 21 at the rear) ensure outstanding braking and cornering forces. The 911 GT2 RS features Porsche Ceramic Composite Brakes (PCCB) as standard.
The front wings, wheel housing vents, outer shells on the Sport Design exterior mirrors, air intakes on the rear side sections and parts of the rear end are made from carbon-fiber reinforced plastic (CFR), as are many of the interior components. The bonnet is also made from carbon to make the vehicle as lightweight as possible, while the standard trim roof is made from magnesium. Both body parts have a wide lateral swage line.
Optional Weissach Package With 30-kg Weight Saving
Performance can always be cranked up a notch – even on the 911 GT2 RS. That's why the Porsche engineers have developed the optional Weissach package, which provides a weight saving of around 30 kilograms. The package includes additional elements made from carbon-fiber reinforced plastic and titanium.
For instance, the roof and the anti-roll bars are made of carbon, and so are the coupling rods on both axles. Magnesium wheels reduce both the gross weight and the unsprung weight, providing a greater wealth of impressive chassis properties. The luggage compartment lid and the carbon- weave finish roof are emblazoned with a central strip in the same color as the car for a visually distinctive look.
A Truly Sporty Interior
The passenger compartment of the 911 GT2 RS is dominated by red Alcantara, black leather and interior parts with a carbon-weave finish as standard. The GT2 RS sports steering wheel with gearshift paddles enables quick and sporty gear changes. Drivers and passengers experience the driving dynamics of the high-performance sports car in full bucket seats with a carbon-weave finish.
As in every 911, the Porsche Communication Management (PCM) is the central control unit for audio, navigation, and communication. The Connect Plus module and Porsche Track Precision app are also included as standard, enabling detailed recording, display, and analysis of driving data on a smartphone.
Interior Of The 911 GT2 RS
The optional Chrono Package expands the PCM functions to include performance display, which can be used to display, save and evaluate track times. The package also includes a stopwatch on the switch panel with both analog and digital display.
What's more, the Chrono Package on the 911 GT2 RS comes with a lap trigger. Using the Porsche Track Precision app in conjunction with external markers on a start/finish straight, this lap trigger enables drivers to record lap times with a high level of precision.
Exclusive Watch To Accompany The Car: Porsche Design 911 GT2 RS Chronograph
Porsche Design has teamed up with Porsche Motorsport to develop the 911 GT2 RS Chronograph for customers of the new super sports car. It is reserved exclusively for 911 GT2 RS drivers. At its heart is the first clock movement developed by Porsche Design, the product of three years' work.
The caliber 01.200 includes a flyback function, a load-path-optimized movement bridge and an official COSC certificate of authenticity. The timepiece housing is made of lightweight titanium. The flyback function is inspired by motorsport and represents a special feature of the Porsche watch.
On a traditional chronograph, the buttons must be pressed three times in order to measure consecutive time intervals: The first press stops the chronograph, the second resets it and the third restarts the measuring process. On chronographs with a flyback function, these processes happen automatically and in rapid succession. The stop function and the ongoing time display are clearly separated using yellow markings.
Many of the details on the timepiece are based on the high-performance sports car. The tungsten winding rotor is modeled on the rims of the 911 GT2 RS. The clock face is made of carbon, while the design of the time display matches the instrument cluster and the tachometer. The 911 GT2 RS and its watch counterpart are exclusively available at Porsche Centres worldwide. The vehicle and watch are produced individually in line with customer wishes and delivered together.
Fuel Consumption
911 GT2 RS
combined fuel consumption: 11.8 l/100 km

urban: 18.1 l/100 km

extra-urban: 8.2 l/100 km

CO2 emissions: 269 g/km
911 Turbo S
combined fuel consumption: 9.1 l/100 km

urban: 11.8 l/100 km

extra-urban: 7.5 l/100 km

CO2 emissions: 212 g/km
911 Turbo
Fuel consumption combined 9.1 l/100 km

CO

2

emissions 212 g/km
Final Verdict
As my fellow Supercars.net colleague, Nick Dellis once remarked, "The world is full of armchair commentators when it comes to cars. At Supercars.net we have a number of journalists and automotive publications we rely on when we want to get unbiased opinions from people we admire."
Below are snippets from some of our favorite car reviewers and automotive personalities regarding the GT2 RS. As always, we ask that you support the amazing publications they release, so that the automotive community continues to benefit from the hard work and enthusiasm they put into providing us with content that we love.
Autocar – "Is it 'the one'? I'm not sure." – 4.5/5
Matt Prior from Autocar had nothing but praise for the GT2 RS's capabilities, so the above quote deserves a bit of context; that was his response when considering whether the GT2 RS is worthy of the "ultimate 911" accolade.
Matt feels that you get "more responsiveness again out of the lighter, revvier GT3 on track. And you'd get a suppleness and sufficient involvement from a GT3, or even a GTS, on the road that makes the GT2 RS a car for certain conditions".
He goes on to summarize that "It is not, to my mind, the 911 defined as the perfect sports car. It's a car for ridiculous circumstances. And, in those, there's still nothing else quite like it."
The Good
Perfectly weighted steering and feedback

Balanced handling

Phenomenal engine response and linearity
The Bad
Loud cabin noise, unrefined interior

Less 'supple' than some competition

Other 911s can provide a more involved driver-feel
More: Read full review
Top Gear – "A Gt2 Rs You Don't Have To Be Scared Of" – 9/10
Ollie Marriage from Top Gear notes that the GT2 RS is a remarkably quick car that has honed (but not tamed) the GT2's "historic wildness".
Ollie says, "The result is a sensationally fast car, one that's also far sharper, more drivable and controllable than it has any right to be. It doesn't feel electronically managed either, not for a second, but wonderfully mechanical."
Ultimately he is also in the school of thought that the GT3 is the more quintessential Porsche 911 – "For me, the toughest rival comes from within – the GT3 RS. Given a straight choice, I think I'd still go for the nat asp GT3, although that would mean foregoing the mad turbo headbang…"
The Good
Dextrous chassis

Brakes' stopping-power

Engine's precise power delivery
The Bad
GT3 is its main rival

Not 'exotic-feeling' enough for its price

Weissach package is 'distracting'
More: Read full review
Car And Driver – "At Home On A Track" – 5/5
Mike Duff from Car and Driver states that while the GT2 RS is "quite effective" on the road, it truly excels on a race track. In his opinion, the lack of refinement can make the car overbearing for daily driving, making it a niche car.
"While most modern 911s have become quiet and relaxed, the GT2 RS shortcuts straight back to the origin of the species. The engine fills the cabin with a heavy exhaust note at idle, the rear-mounted flat-six throwing up bass-heavy harmonics under even gentle progress as the ball-jointed suspension can be heard and felt working. There are rattles and vibrations that would never be allowed in a lesser 911."
Like his contemporaries, he concedes that the GT3 is the more well-rounded and appealing-to-the-masses car. However, he feels the GT2 RS has more than delivered on its mantra, remarking that "If you want the fastest and the most viscerally thrilling version then this is undoubtedly it, the ultimate incarnation of a roadgoing 911 to date."
The Good
Fastest factory-built 911 ever

Visceral character

Driver friendly
The Bad
Rawness precludes daily use

Sparse equipment
More: Read full review
My Final Verdict – 10/10
There is no doubt that the new GT2 RS is the pinnacle of the 911 in terms of performance. It is simply the fastest 911 in history, and that's a fact.
So then, why do opinions matter for something that is so objective? It is not that we are disputing science; however, when it comes to the pure enjoyment of driving and enthusiasm for automobiles, we can only rely on the numbers so much.
I am very blessed to have driven and owned a variety of cars that have helped me mold what I hope, has become a well-versed and pragmatic love for cars. So, I understand that what it all boils down to, is perspective.
I completely get the notion that naturally aspirated variants of high-performance cars often feel more "involving" or have more "character", but the GT2 RS should be considered in a league of its own – because it is.
It is the quickest production car to lap the Nürburgring Nordschleife. It is the most powerful 911 ever made. It has ridiculous aerodynamics. It is the apex of Porsche performance. There's nothing else like it.
In my opinion, you should purchase or appreciate the 911 GT2 RS for what it objectively is – not what it subjectively is not. From that perspective, the GT2 RS can't be anything but the best.
Rivals