Bodyweight Workout Systems
Weighted Home Workout Systems
Dumbbells And Gloves
Workout Benches
1
Now we come to the hot real estate in most commercial gyms – which makes having your very own in a home gym feel like a real luxury. We're talking about workout benches of course. To kick things off, we will showcase this gym bench from Marcy which made it onto our list of the best home gym equipment for very good reasons.
The gym bench is constructed using heavy-duty reliable steel and durable upholstery. The foam rollers along with this upholstered finish make it a durable product, but also make lying and sitting on the bench exceptionally comfortable.
The inclusion of soft and comfortable foam roller pads makes this workout bench even more versatile than others. When adjusted into a decline setting, the pads can be used to support your legs and use the bench as abdominal equipment for sit-ups. This versatility is a key reason why it made it onto this guide.
As we already gave away, the bench can be adjusted to be placed in incline and decline modes. This allows users to target multiple muscle groups using just one piece of home gym equipment.  From shoulder press to chest press, this bench can help. Just add weights to this multifunctional workout bench and wait for phenomenal all-around fitness results!
2
For the guys who are going all out on creating a high-end home gym, they may want to consider this outstanding gym bench. The York Multi-Function Bench has a lot to offer and when you behold its aesthetics and its features, it's easy to see why it has made our grade.
First, this can be used as a stand-alone workout bench to be paired with dumbbells, Z-bars and similar home gym equipment. However, it has also been made to lock into other free-standing racks. If you're equipping your home gym with a squat rack, then this is the perfect gym bench to pair it with.
Moving this bench from your weights area to the racks won't be a problem either. Thanks to rubber wheels and an ergonomic handle, simply lift and maneuver the bench to where you need it. This makes it a lucrative option for home gyms with limited space too. You can effortlessly move it around to make room for your next exercise swiftly.
To round off an awesome product, the bench can be adjusted into six different positions from being completely flat to an inclination of 90 degrees. The only place it falls down compared to the Marcy bench is that it doesn't have a decline setting for abdominal exercises.
3
If you do want a quality gym bench that also has a declining function, then you could consider the Flybird design. This gym bench has a wide range of inclining and declining settings. The seat can also be adjusted to cater to the inclination of the backrest. In total, the backrest can be adjusted into seven different positions and the seat area can be adjusted into three.
This is also a space-saving gym bench which can be stowed below furniture and has even been designed to lean against a wall in an upright position safely. This is a lucrative feature for many guys making a home gym with limited space.
The bench's frame is made using reliable steel which can support a weight up to 500 pounds. To back up this claim, the steel frame comes with a no-questions-asked 12-month warranty. The padding is also desirable and made with soft foam padding and bound in a strong leather. Now you have a gym-bench headache due to the quality options at your fingertips!
Foam Rollers
1
One of the most popular accessories in any commercial or home gym is a foam roller. After pushing your limits and making progress, it's common for muscle soreness to set in. To help you down the stairs in the morning and avoid the grandad walk around the office, choose to get a foam roller. These accessories are used to "roll out" your muscles and release tightness and pain.
The 321 Foam Roller is one of the best on the market because of its compact dimensions and proven results. Many powerlifters, runners and CrossFitters are making good noises about this foam roller because it has been specifically designed to imitate the hands of a masseuse. The various thumb and finger-like stubs help relieve pressure from the muscles effectively.
Other things to note about this foam roller include its weight. At just one pound, it's one of the lightest and most compact on the market at the moment, making it an excellent home gym and traveling accessory. You can even pick one up in over ten colors to suit your masculine taste!
2
Foam rollers are gathering a following among fit and healthy men, which is why we want to show you some more options to add to your home gym. This LuxFit model is a speckled design which can be bought in one of three cool colors. The product is made of high-density foam to improve its longevity and to be a valuable home gym essential for years to come. The durability and density of this foam roller means it will never lose its shape, even when used by bigger men or used regularly in your warm down routine.
What sets this foam roller aside from competition that never made our list of the best home gym equipment is its size. More specifically, all four sizes. Yes, that's right – this model can be bought in four different sizes. This choice makes it perfect for home gyms with limited space and if you grab the smaller ones you can easily take it with you on your next getaway or business trip.
To round off a fantastic product, this USA-made foam roller is supplied with a whopping three-year warranty and an instructional video. This video is great for rolling newbies to help them get the most benefit from these industry-changing products.
3
Three's a crowd, right? Not when it comes to foam rollers. Here is a third option for guys who want to relieve muscular tension at home after a day spent in an office chair and a week working out. The Rumble Roller foam roller is textured, unlike the previous product, meaning it can dig deeper into problematic muscle tissue. Therefore, it's aimed at men who can withstand significant pressure while those with overly tender muscles may be better off with the latter option.
The flexible-but-firm bumps on this foam roller have been positioned to pinpoint multiple areas at once. Moreover, these bumps are made to imitate the thumbs of a massage therapist. If you want an on-call masseuse in your home gym, then this foam roller could be the perfect addition. The product even comes with a three-year warranty just like the other model. Roll out your sore muscles with the peace of mind that you made a quality investment by tapping that button just below.
Abdominal Equipment
Jump Ropes
1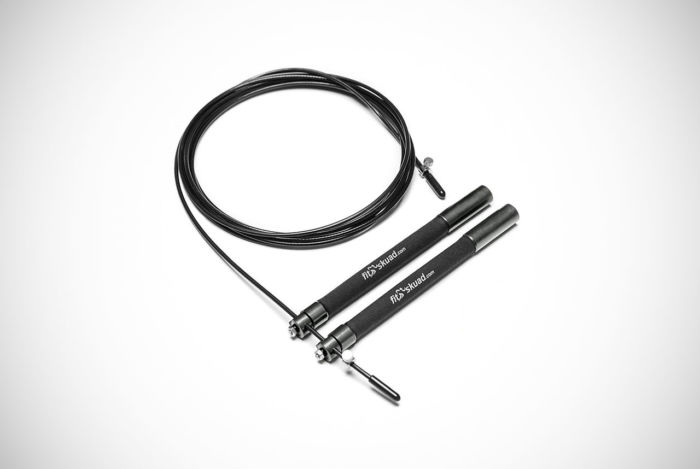 Jump ropes may be one of the most overlooked pieces of home gym equipment that can tone your whole body but fit inside a drawer. Why do you think boxers spend hours sweating with a jump rope and use nothing else? The jump ropes from Fittskuad come in a choice of cool colors including a neat gunpowder gray design. These ropes are also highly adaptable to any user's height because they can be adjusted effortlessly.
This jump rope is one of the lightest and most durable on the market. A formidable combination allows owners to keep up the pace and own a jump rope which can last for years. When you buy this model, you get a lot of little perks that make the purchase all the sweeter. Buyers receive a twelve-month warranty for added payment protection and even get a 120-day replacement guarantee.
If you want to take this jump rope with you to whip out in hotel rooms on business trips or just down the local park – you can! It comes with a convenient carry bag. The perks keep on coming too because you will also receive an e-book to explain how you can master the double under move. Rocky Bilbao move along!
2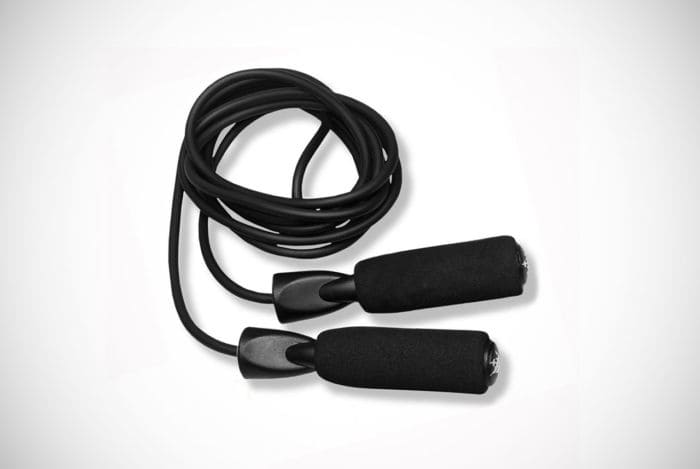 If you want to dip your toes into the world of jump rope then this exceptional model at a wallet-friendly price may be your go-to. Male fans of boxing, MMA and similar combat sports may be more inclined to get one of these accessories, but the King Athletic model is suitable for all. When buying this product, you also get an unbelievable offer. Not only will the manufacturers ship this gym rope to any location in the USA for free, but you get a 200% return guarantee. What does that mean…
Well, if you are not satisfied with the product you receive because of damage or other reasons, King Athletic will not only send you a replacement, but they will refund you 100% of your money as well. This is customer service 2.0 and King Athletic deserve a big pat on the back for this unique offer. The rope itself has been made to adjust for men of different heights and it's made with an anti-tangle rope so it fits into the accompanying carry bag easier.
Other positives on this home gym essential are that it comes with molded foam handles to prevent wrist strains when using for a prolonged period or repeatedly. Buyers also receive two e-books. One of which gives information on exercises and the other gives nutrition advice.
Last but certainly not least is a video program that teaches great workout routines and normally retails at more than double the price of the jump rope itself. Want to find out more? Click the button below and jump over to the product page!
3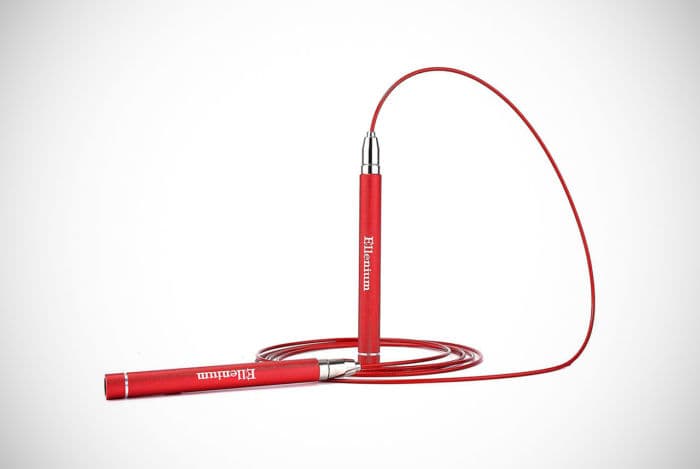 You can pick up a fierce red or boyish blue of the Ellenium Adjustable Jump Rope. There is a lot to shout about when it comes to the final jump rope on our list of the best home gym equipment. So where should we start? How about the product's frictionless rotation that makes it faster and glide through the air? Or maybe the jump rope's ability to be adjusted to different sizes? Or more innovatively, its locking mechanism that locks the size you have selected simply with added pressure from your thumb?
These are two cool features of the Ellenium jump rope and there are some more to talk about. It has an anti-slip handle made from durable but light aluminum. This ergonomic design will keep you in control even when the sweat starts to build up. As a bonus, it also comes with a bag to help you keep it secured or transport it with you so you can keep in shape when on the move.
This is along with a replacement rope just in case accidents happen. This bonus rope doesn't mean that the rope isn't covered by any sort of guarantee. In fact, it comes with a lifetime satisfaction guarantee and a lifetime warranty. Swing on over and discover more by clicking below.
Aerobic Step Machines
1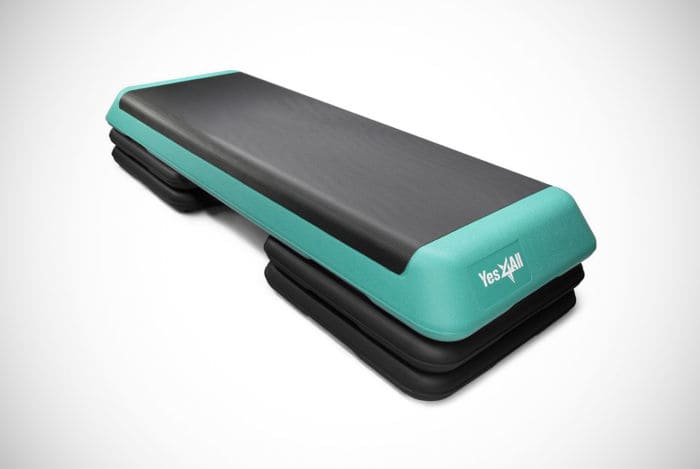 Aerobic step platforms are some of the most versatile pieces of home gym equipment. They offer a number of exercises that can be used to target upper and lower-body muscle groups, as well as overall fitness. Having one of these platforms in your workout arsenal can help you burn fat quickly, increase strength, enhance balance and give you a lean and mean body to show off.
The Yes4All model gives you the opportunity to achieve these things. The platform of this step equipment is made to absorb shock for a more comfortable workout and to prevent slipping. It also comes with a selection of risers so the height of the platform can be adjusted to your fitness levels. Ranging from four inches in height up to eight inches, it truly is one of the best home gym essentials to cater to different men.
It's made from a high-density polyethylene material which is recycled to help the planet and durable enough to support weight up to 200 pounds. To feel as confident in your purchase as you will with your body, this model comes with a 60-day free returns period if you are not happy, and a one-year warranty in case something is not quite right.
2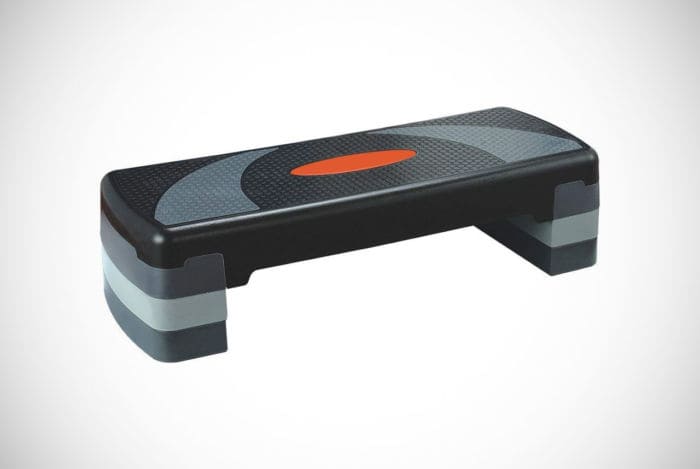 A slightly smaller design for those guys really short on space is the KLB model. Unless you're Barry Big Foot, you get all the same benefits from a compact design than you do from a wider stepper. The width is rarely an issue but what is key is the adjustability of the aerobic stepper's height.
Again, this one offers users the chance to switch up the height and the difficulty level with it. KLB Sport has developed a product that can switch from four, six or eight inches in height in a matter of seconds. This is completed by managing the accompanying risers which can also conveniently be stored in the center of the stepper when not in use.
The surface of the stepper looks the real deal and that's because it is. With a professional design and a non-slip and shock-absorbing surface, you can work out in confidence when owning this phenomenal piece of home gym equipment.
There are a lot of aerobic steppers out there so there must be even more reason why this made it into our home gym equipment hall of fame? There is. It's supplied with four additional protective rubber feet. These feet not only protect your equipment, but they protect your floor. Not to forget preventing you from making marks on your wife's floorboard picks and spending a night in the doghouse.
3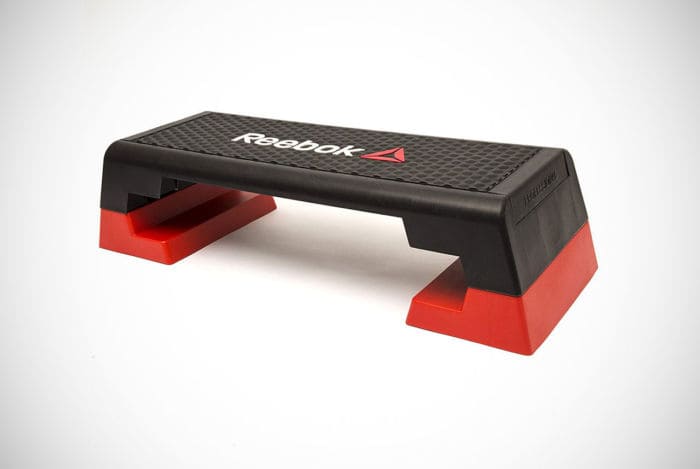 The last piece of aerobic step equipment featuring on our buyer guide is one from Reebok. Reebok is a big player in the sporting industry and is more than just a household name. When buying home gym equipment from them you expect high quality and outstanding innovation. That is exactly what you get with this product.
This aerobic stepper comes in a choice of an awesome black and red color or can be bought in blue, white and gray combo. The Reebok branding and logo feature on the top of the stepper and along with multiple rubber protrusions. Together, these add friction to the surface of the step and enhance the safety of the product by preventing slips. This is especially important when working out at a fast pace.
This model is also one of the tallest on the market. It can be adjusted to a smaller height for those that need it and prefer. Yet, it reaches 10 inches in height which surpasses the height of many of the other models out there. For a more intense workout choose this Reebok aerobic step equipment. Need more information before deciding? You can get it easily by clicking the button below.
Push-Ups And Pull-Ups
Workout Balls
Elliptical Trainers
1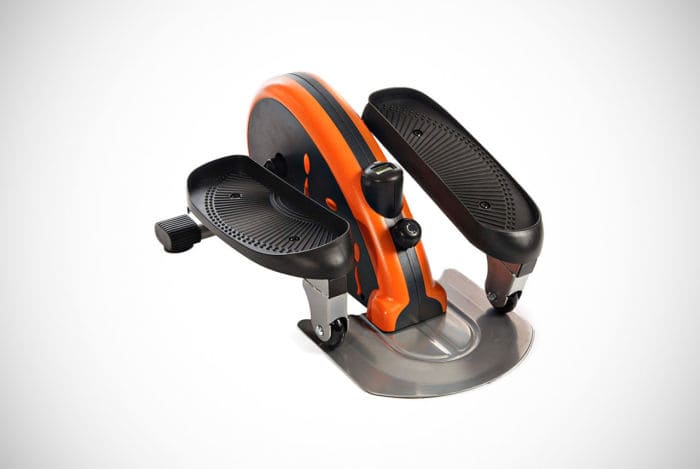 Elliptical trainers are the bees' knees, well, if you want to save your knees. They do not involve any impacts on your joints while using them which make them great for a select group of men young and old. When most people think of these gym essentials, they picture big machines which take up a lot of room and make a lot of noise. But they don't always have to be like that just as this elliptical trainer from Stamina demonstrates.
Good stamina is what you will get after using this machine which is light enough or you to maneuver around your home gym with ease. It comes in a black, green or orange color to match any home gym interior. The machine can be used while standing but it may also be used while sitting, depending on the user's particular needs.
Either standing or sitting, you will be able to enjoy this gym gear knowing you are safe. This is thanks to the pedal's grooves which add friction and make it almost impossible for you to slip while exercising.
Most high-tech elliptical machines in commercial gyms allow for movement in both directions. This compact elliptical matches these perks by also letting those make forwards and reverse strides. The strides you make can also be tailored to your fitness levels as there is an easy way to increase and decrease the intensity of force needed to make strides.
You can then see how well you're doing and the key stats of your workout on the elliptical's attached display. Overall, this is an amazing option to improve your fleet of home gym equipment. However, gamers and Netflix-bingers may also want to get this quality piece of kit to make their inactive hobbies more active.
2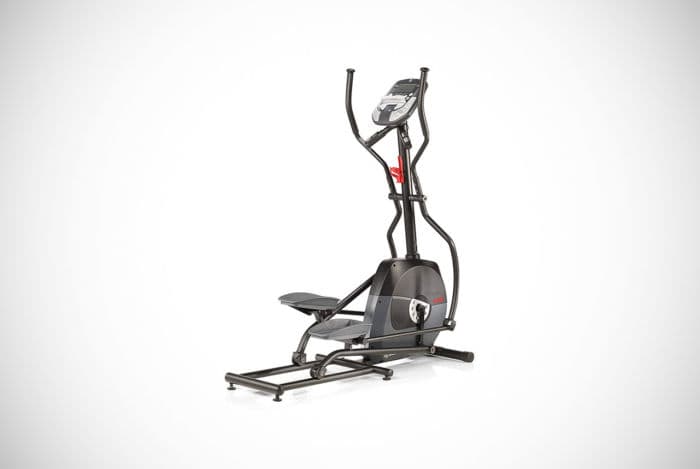 A more monumental addition to home gyms with the space is the Schwinn A40 Elliptical Machine. This design is more conventional to what you would have seen people breathless over in your local gym. It has pedals with extra grip to retain your footing and handles that extend beyond the large digital screen so you can complete a full-body workout. On these handles are ergonomically-placed heartrate monitors so you can monitor these measurements as you go.
The whole family can monitor their performance on seven pre-set programs as it stores up to six profiles. It is even more ideal for different users or for long-term use because it has a range of intensities. In total, it has eight levels to help you progress from couch potato to running bean.
Managing the intensity of your workout is clear on the large LCD screen. On this console, you can find various pieces of important workout information. You will be able to see your current heart rate, distance traveled, calories burned, RPM, speed and time.
The outward-facing perks of this model are just as spectacular when you take a look under the hood. The weighted flywheel has been crafted to give you a smooth workout and to limit the amount of noise it produces when being used at intense speeds. The wheels on the outside of this piece of home gym equipment are just as valuable. These wheels are important to help you weave the machine around your other home gym equipment for easy storage.
3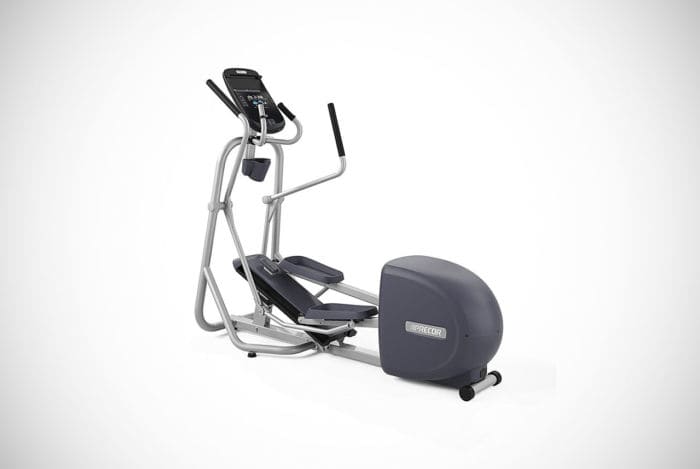 For the retro gym lovers who want the best home gym equipment that has proven its worth year in and year out, there is this Precor model. Precor is a market leader of gym equipment and even released the first ever elliptical back when Pearl Jam and Nirvana were making the most noise. That gives them over 20 years of elliptical expertise and gives you the reassurance that you are buying top quality equipment.
It's impossible to shy away from the fact that this elliptical is of commercial gym quality. Purchasing this machine for your home gym will certainly make a statement. Precor's work is patented because the design is especially beneficial at helping you maintain the perfect body posture as you exercise.
The console offers a number of functions where you can manage the intensity of your workout and see real-time results of your session. There is even a water bottle holder to keep you hydrated as you move.
Special things to note about it are that it has a staggering 10 workout routines to pick from, adjustable positions to target different areas of the body, moving handles to incorporate your upper body and a whole lot more. When you make an investment like this, you want added insurance. You get that here as the various parts are insured for durations between one year and a lifetime.
Rowing Machines
1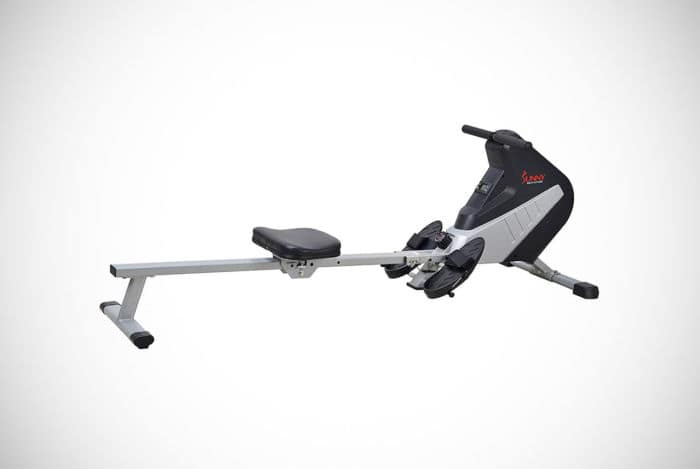 The penultimate category on our search for the best home gym equipment is rowing machines. A rowing machine is an important piece of fitness gear for those wanting to improve their endurance while simultaneously toning muscles.
The machine has a strong and sturdy sliding rail to keep the whole machine well balanced. On top of this rail is a comfortable and well-padded seat so your longer rows are made less painful.
The magnet tension system (MTS) offers a smooth gliding motion when pulling the handle towards you with each row. The intensity of which can be adapted to your workout goals. Specifically, the machine can be tailored between levels one and eight for a breadth of intensities and user needs.
Increasing and decreasing such levels is made effortless with the turn of a knob. The handle is made with high-density foam to improve grip – and your performance with it!
All that has come before is pretty standard and expected from a rowing machine. But it is the foot pedal that breaks new ground for rowers all over. The slip-resistant foot pedal can be adjusted to all foot sizes, including wide feet. That is not the reason why we have gotten our Sunny Health banners out though.
These foot pedals pivot as you move towards the machine. This increases leg drive, reduces irritation and discomfort at the ankle joint and is exceptionally innovative.
The LCD digital monitor will track your calories burned, stroke count per minute and much more. For an effective piece of home gym equipment with a lot to offer then this is for you. It even folds up and has transportation wheels for added convenience.
2
Another magnetic-resistance model is the R100 rowing machine from Lifecore Fitness. However, this machine does not just use magnetic resistance, it cleverly uses air resistance as well. This is just one thing about this rowing machine that makes it a bit special.
The LCD monitor on this machine offers performance insights that you come to expect. It provides information on calories, distances, speed and so on. The LCD console that displays this information uses tow colors so you can see your scores without having to linger close towards the console to see how you are doing. Moreover, the handles are ergonomic for maximum comfort and the seat is filled with more padding to prevent soreness or numbness when rowing for prolonged durations.
We chose to add this to the list of the best home gym equipment for these awesome reasons. Yet, it was chosen because it also made use of pivoting foot pedals. Both of the rowing machines you have seen so far have had these clever features, but do not think that such perks are common among the rowing machine scene.
Another reason that this made the grade is because it can be folded and made more compact than most other rowing machines. Simply reduce its dimensions in seconds and make space for your other gym gear with this model.
Owners of this machine get to choose between 15 pre-set programs. Each one is great for tailoring a cardiovascular and muscular endurance session to your fitness ambitions. The different parts of this machine come with warranties of various lengths for your payment protection.
3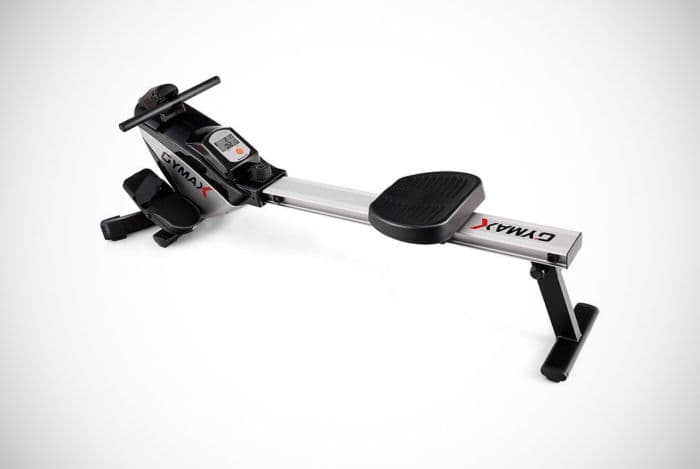 We have shown you two considerably-sized machines so we thought to even it out, we should showcase a smaller design that still packs a punch of quality. And that's exactly what we found when we discovered the Goplus Rowing Machine.
The machine is predominantly made from durable steel that will not falter easily over time. Inside the machine are six wheels that operate quietly. When using this rowing machine, you will not disturb others.
The foot straps and seat both have anti-slip grooves to enable you to remain stationary and avoid slips that could hinder performance. The rowing experience is made better with a u-shape seat to help you relax when pushing your limits. As for the performance of the product, users can pick between eight levels of intensity that are easily changeable by turning a know just below the LCD console.
This console produces you with information about your row so you can see your improvements for yourself. It is also a model that can be moved around using its attached wheels. This one may be more convenient for home gyms with limited space due to this, but also because of its smaller dimensions.
Treadmills
1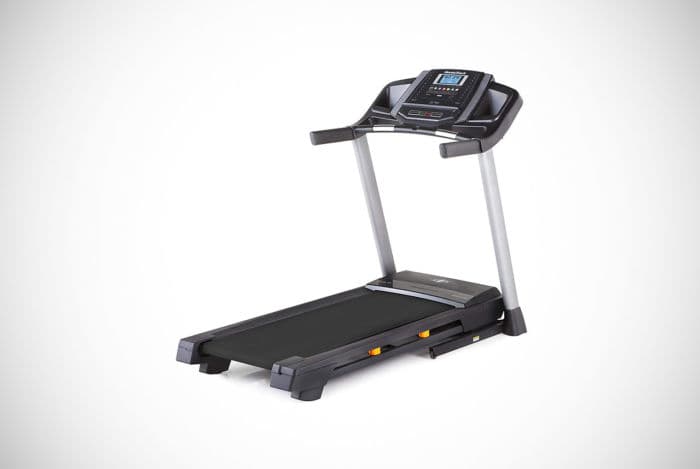 Now on to the treadmills. These items are the more sophisticated pieces of home gym equipment, but they undoubtedly make a huge difference. We'll kick this last category off by putting the NordicTrack T 6.5 S Treadmill under the microscope. The machine is capable of providing an array of settings to tailor the treadmill to your workout needs.
You can adjust the intensity of your run with the flick of a switch and even increase the gradient of the running belt up to a whopping 10%. Both of these performance features are great for making sure the treadmill targets different muscles and caters to different men.
However, it gets even better than this. You can even custom a workout by pairing the machine up with Google Maps. Have a fun run or even a marathon coming up? Just add your route to this treadmill to train for your specific event from your home gym. It's not just your favorite search engine that you can pair with it either. How about marrying your music device with this awesome treadmill to listen to your playlist as you run?
Anyone who makes the smart choice to purchase this treadmill gets something extra. It comes with the option to redeem a full month's membership at iFit. This lets you find unlimited workout routines and exercise programs to help you reach your goals. Whether it's just helping you spend less time in front of the TV or training to compete, this is a valuable resource. All workouts and programs are there to download for your benefit.
Who needs a commercial gym pass or a personal trainer when you have the best home gym equipment like this treadmill right at home? To learn more about the features and capabilities of this treadmill, hit the button below and discover more.
2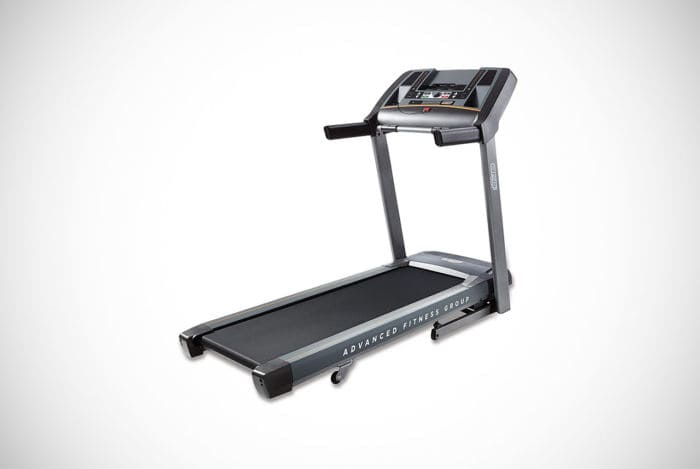 AFG Sport is also a front runner when fighting for your home gym space. The race for the best treadmill is a close one but this model may just edge the photo finish. The motor inside this product is heavy duty. It's exceptionally powerful and backed by a lifetime guarantee for your peace of mind. You can always be assured that you will have a constantly running motor, so you can continue running whenever you want, rain or shine.
One of the more appealing aspects of the motor is just how quiet it is. For those who are putting their home gym near a living space or even for those who have reserved space in front of the TV, you can still hear your favorite shows when jogging. The workout functions on this model are just as impressive as its motor. You can adjust the incline of your run from 0% to 10% in super quick time. From a nice flat stroll to an uphill climb, this piece of home gym equipment caters to all men.
Another feature that makes owning this treadmill a real luxury is that it can hold multiple user accounts to keep track of your progress across all nine programs. This makes it great if the rest of your household wants to apply for a membership at your home gym. On top of a high-resolution monitor, fans, quick-touch buttons and more. This is not one to miss out on.
It can also be folded up to make one of the bulkiest pieces of home gym equipment much more space effective. Last but certainly not least is the impressive belt that is housed on this machine. The belt has been enhanced with responsive cushioning to make its use less impactful on joints and give an overall more comfortable running experience.
3
We just discussed how the AFG Sport treadmill has been made to be kind to joints. This will be welcome news if you are an older gent or any guy who has suffered some sporting injuries in the past. But your options aren't limited to the previous feature. We would like to turn your attention to the Sole F85 Treadmill.
This piece of home gym equipment has a belt that is both cushioning and whisper quiet. In fact, some lab coats compared the running belt on this treadmill to running outdoors and found that this treadmill provides up to 40% fewer impacts on your joints. Not to leave out that the extra peace and quiet will also be great to keep the dog from barking and the neighbors happy.
The settings of this treadmill allow the user to tap into multiple types of running routines from battling the hills to less-calf-destroying flat runs. Specifically, this model can be adjusted between inclines of 0% to 15% for which does mean it can be made steeper than most other models on the market. Who said anything about rock climbing?
Additionally, the motor can afford speeds between 0.5 miles and 12 miles per hour for a tailored workout. The workout options on the machine are plentiful and can be chosen from six standard and two customizable options by using the nine-inch LCD display. All of this quality is then neatly packed up. Despite the product's significant weight, it is able to become smaller and more space friendly by adjusting some of its parts.
It comes with some extras too. Purchasers of this treadmill get a heart rate belt, multiple warranties against certain parts of the product and the knowledge that they have made a sound investment. Check out more details of this by tapping the button below.
What Are The Benefits Of Making A Home Gym?
Each year, thousands of men decide to ditch their gym memberships. In rebellion to packed car lots and even busier weight areas, they choose to use their money by investing in quality home gym equipment. There are a lot of benefits in doing so. Having a home gym is, as mentioned, an investment that can save you money in the long term. Instead of excessive signup fees, monthly payments and transport costs for each visit, you can make a worthwhile investment in your health and your bank balance by buying the best home gym equipment.
Having a home gym may also increase your motivation to exercise, especially when you no longer have to commute to the gym. One of the most difficult sit-ups any gym-goer needs to do is the one off their sofa. However, that sit up becomes much easier when the gym is only a room away. Having a home gym also enables you to work out more because of the time you save by not commuting. It becomes a lot easier to get a workout in during a busy working schedule.
Once in your home gym, you get the first and only pick of the gym equipment. And you get to choose the workout music too – no need for Bieber to make them squats even more painful! With a home gym equipped with the best gym equipment, there is also no waiting around for other people to update their Instagram with gym selfies and get off the equipment. You get to use what you want when you want.
This isn't to say that a home gym is exclusively for the benefit of people who have said goodbye to their local fitness instructors. For the guys who are serious about their fitness, having a home gym as well as a gym membership is highly desirable. These guys get the best of both worlds and can choose between the social aspect of a commercial gym and the private convenience of a home gym.
What Home Gym Equipment Is Best For Those With Limited Space?
Many men dream of a home gym which is kitted out with the best gym equipment. But nearly just as many men give up on the dream when they remember that their spare room or garage isn't that big. If you are a guy with limited space, then do not worry. The home gym dream is not over. There are still many ways to create your own home workout zone with what you have to work with. You just need to be smart about it and consider our advice.
First, you could look for home gym equipment that is foldable, compact and easy to store. This way, you will be able to own the same number of gym equipment and accessories as someone with excessive square feet. You will just have to keep many items stored until they are needed. Fortunately, lots of home gym essentials have been made with this in mind so you can get them ready and pack them away quickly. You'll see examples as you browse below.
There are also equipment options which target the same muscle groups but significantly differ in size. For example, one guy may have a Z-bar to prepare his biceps for a Saturday night down the bar, while another guy may have a resistance rope that can be made exceptionally compact and even placed in a drawer. If only limited space is available, one of these is not smart when buying home gym equipment and the other reads Men's Gear.
However, it's not only about size. That sounds strange when we are talking about making the most of your space but stick with us. The number of functions available in the piece of gym equipment is also a key consideration. Getting a machine that works one or two muscle groups is great but getting a similar-sized home workout system that has multiple stations to give a full-body workout is a much wiser decision.
If you are a guy living in a warm climate then you may not need any space at home at all. You can make your home gym anywhere you like, whether it be a local park, the garden or the local basketball court. To get your own outdoor gym, you just need portable home gym equipment that you can store easily or leave in the car. Great examples include resistance bands, workout balls and adjustable dumbbells. Many of these options are also great for businessmen or other traveling guys who need to keep in shape on the road. Just slip it into your carry-on luggage and you're ready.
How To Make A Cheap Home Gym That Covers Everything?
If the price of home gym equipment starts to add up, it can feel easier to just go back to your regular gym. However, just because some pieces of gym equipment can be expensive, it doesn't mean that you can't get home gym equipment to target all your muscle groups at a cheap price. This doesn't mean you buy all the cheap home gym equipment available. Rather, you still buy the best gym equipment, but you buy combinations of equipment that complement each other. Intrigued? Keep reading!
For example, instead of buying an abdominal roller to improve your core stability and a squat bar to work your lower-body muscles, you could just buy a medicine ball which can target your core and be used to squat with. In this situation, one piece of equipment can be used for two very different muscle groups and is much cheaper than buying the other two options. This is just one example of multiple combinations that are out there. These combinations are key in reducing your expenses when making a home gym with equipment that gives you a complete workout. Look out for them.
Also, a lot of attention should be paid to the type of weighted machines and equipment you buy. Weighted plates are much more versatile as they can be added to different types of bars and used in conjunction with benches and more. On the other hand, dumbbells aren't as versatile. Unless you check out some of the adjustable dumbbells listed below!
Unless you like sleeping on the porch, you may want to run the idea of a home gym past your significant other. Yet, there are more things needed than your wife or girlfriend's approval to ensure everything goes smoothly. If you think back to your time in a commercial gym, you will notice some ways that they ready their rooms to be used as workout spaces. It's these things that you should consider to make your home gym feel like a gym, and not just some spare bedroom with a set of weights in it.
So, what are we talking about exactly? Well, first there is the music to consider. Music is proven to help increase performance and motivation. Pair a speaker up with your playlist and you have the makings of a real gym environment without spending much more. You may also want to get yourself a small water dispenser. You can pick these up for relatively cheap and they can make your gym look the real deal – without the line for the water fountain of course.
However, we have saved the most important for last. Commercial gyms use special types of flooring to withstand the general wear and tear of high footfall and more importantly, to withstand impacts of heavy weights being dropped against the floor. Before you damage your new oak floorboards and get in even hotter water with your girlfriend, it's best to re-lay your floor with special rubber gym flooring. This gear is really easy to put down without experience as it usually clicks in place like a jigsaw. It can be bought in separate pieces in most stores.
Using this flooring is also great for reducing the noise of moving around and any echoing sounds, which will be even more necessary if your new home gym equipment is stationed above a living space. You don't even have to cover your whole area either. To be kind to your wallet, you can just add this durable flooring to the areas of your home gym where you need it most.
What Are The Common Mistakes When Making A Home Gym?
There is a saying when shopping for the best home gym equipment – and that is buy nice or buy twice. It's super important that all you guys take a look around at what is on the market when shopping for home gym equipment. Checking the options of what is out there can help you find more money-saving and space-saving gym essentials. Fortunately, you are already dodging this minefield by coming to us and taking a look at what our researchers discovered.
But what mistake could you still make? The biggest mistake by men making a home gym is that they do not measure their space beforehand and do not consider the space they need to move around when all the equipment is in place. By cramming lots of home gym equipment in, you not only make your gym look cluttered, but it can also become really unsafe.
The next mistake is not as crucial as making sure you know the dimensions of your room before buying your equipment. However, we still think of it as a crime. After buying your new equipment and accessories, your room can look complete. But no home gym is complete without some personal touches. Add posters, flags or even paint your walls with quotes and motivational messages just like the cool boxing gyms you see on the movies. Just show the color theme of your awesome motivational graffiti to those you live with before digging out the paintbrush.
A Special Word For Personal Trainers
If you are making a home gym as a personal trainer with the vision of training your clients in it, there are some things you need to be aware of. A home gym that is used in this way is no longer just a personal gym. It's now a commercial gym and your home insurance will not cover the safety and wellbeing of your clients. Also, be aware that many home insurance companies do not cover injuries from personal uses of home gyms anyway. Check with your insurance company to find out if you're covered for medical bills in the event of a personal accident in your home gym. Personal trainers will have to source public liability insurance for themselves and to keep their clients protected.
The Locker Room Debrief
Well, we certainly delivered a lot of options. Whether you came for one particular item or wanted to see all of the home gym essentials on our list, we hope you found some perfect products for you. You got to see and read reviews on exceptional and high-quality equipment from some of the leading brands such as Trideer, Lifecore Fitness, Gold's Gym, Reebok, TRX and many more. We may have also introduced you to some new faces which match quality with affordability.
With some of these 50 products and accessories in your home gym, you can be sure to have easy access to bulging t-shirt muscles before hitting the bar on a Friday night and all-round health and wellbeing. Just remember to consider the things we mentioned just above in our buyer guide to make sure you buy the best home gym equipment for your needs and space. Neglecting these things can end in wasted money, as well as an impractical and unsafe home workout space.
And finally, thanks for joining us in this guide. We have plenty of other fitness equipment and gadget reviews that you may like to look at. Hop over to these other awesome buyer guides to discover more of the best gear from the fitness industry – time!