More exciting reveals came about in Geneva this week with Mercedes revealing their 4-door coupe to the world. Initially thought to be rumors, the sexy AMG GT 2-door coupe now will come with extra doors, which is good. Customers usually stuck with a Maserati Quattroporte, a Porsche Panamera, or the Aston Martin Rapide can now rejoice! There are more options for the oligarch in trouble of deciding.
It will still feature the usual Mercedes Benz accoutrements, with nice leather seats, fully-integrated instrument cluster and center console, and a V6 or a V8 engine choice. The 53 has a supercharged inline-6 while the 63 has the delectable bi-turbo V8 engine with outputs of 429 hp and 577hp, respectively. Step your game up to the GT 63S and you'll get 639hp. 
We here at Supercars.net are big fans of the AMG GT and while the SLS AMG was a pioneer in creating a Mercedes halo car, it was a bit outlandish with the gullwing doors. As we mentioned earlier, there were rumours that the original SLS AMG was going to become a four-door. There were even hilarious patent designs that perhaps, to troll the automotive community. Just look at it,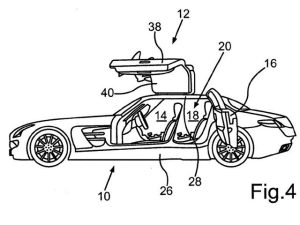 What could have been, right? Thankfully, they went with their senses and the AMG GT 63 and 63S will be a heavily awaited release for the MY2019.