You might think the options list on your latest car purchase was long and it took some time to wrap your head around which options to add, and which didn't seem too interesting, but when you are up there in the ultra-high net worth list, things change considerably, shopping for your next Mercedes, Rolls Royce, or Bentley might give you stress with their almost unlimited range of possibilities and personal approach.
With Bentley, you can stray from the 'basic' options list and head over to their Mulliner studio that will grant you just about anything, as long as you can afford it, Rolls Royce created their Bespoke department for more individual possibilities while they even have the Coachbuild program now that will create a one-off Rolls Royce just for you. And this highly personal customization need has been seen by supercar manufacturers too, Lamborghini has their Ad Personam studio where clients can make requests outside of the more regular options, Ferrari offers Tailor Made for their more discerning aficionados, and while most hypercars are already a very individual expression of the customer, Bugatti wants to take it to the next level with their new 'Sur Mesure' program.
Buying a brand new Bugatti is a very personal experience, you don't just put together your Bugatti Chiron with an online configurator, check a few boxes, and hit 'order now', there is a long way from start to finish before you'll be taking delivery of your new hypercar from Molsheim in France, it usually starts by going to one of their worldwide dealerships and sit down with your personal contact to go over the plethora of options and possibilities on their in-house configurator, it is even possible to make an appointment and go to the Bugatti Automobiles SAS headquarters in France to really get the VIP treatment.
But now Bugatti created 'Sur Mesure', which is French for bespoke, personal, made just for you, and when you look at previous Bugatti cars you might wonder why, isn't each single Chiron already a bespoke build for one specific client? Or how about La Voiture Noire, that one is as bespoke as it gets with only a single one made, well, it's not the same, La Voiture Noire is a one-off, but it's made by Bugatti and subsequently sold, so it wasn't really a custom-built for one specific customer.
But there are some other examples, like for instance the Bugatti Divo Lady Bug with her $1,000,000 paint option, that surely was a very personal order from a customer in the United States, or how about the Bugatti Chiron Sport 'Alice', the special Valentine's gift ordered in the UK, another very personal combination … so it's safe to say just about every Bugatti Chiron built is a one-off, bespoke car, but it seems there are customers out there that aren't satisfied with that level of customization, they want to take it to the next level, almost a coach build level where they order a car with substantial differences from the standard model if such a thing even exists at Bugatti.
As a response to the ever-growing demand for more personalized cars, Bugatti introduces Sur Mesure as their official customization program, and they already have the first Chiron that went through this program ready, taking inspiration from classic Bugatti Grand Prix heroes, more specifically Louis Chiron, when he won countless races behind the wheel of a Bugatti Type 51 that had the race number 32 when he took the victory of the 1931 French Grand Prix with Achille Varzi, so that number has been hand-painted onto this first Sur Mesure customer car, a Chiron Pur Sport.
Let's not forget this showcase of Bugatti's ability to really make a personal hypercar already started back in 2013 when they introduced the Veyron Les Légendes de Bugatti, with six exclusive editions to celebrate individual heroes of the marque, each with its one-off exterior and interior finish, and more recently with the Chiron Zebra in 2019 that was a special order from a customer in the Middle East featuring a very 'personal' combination of Titanic Blue and Gunpower Grey on the outside, a paint job that took three weeks in the atelier at Molsheim, which is nothing compared to the aforementioned Divo Lady Bug, that elaborate paint scheme took them 18 months to complete.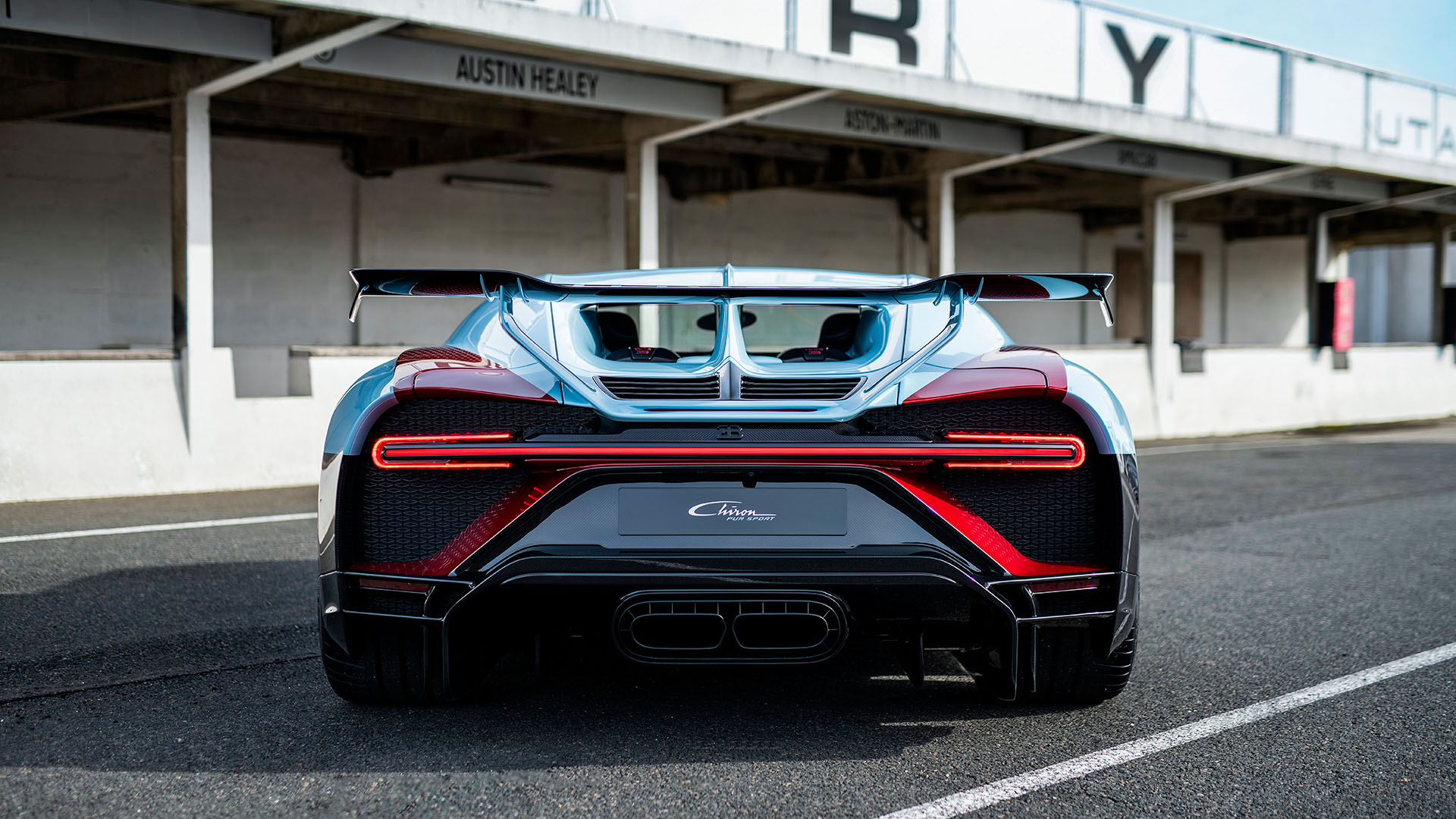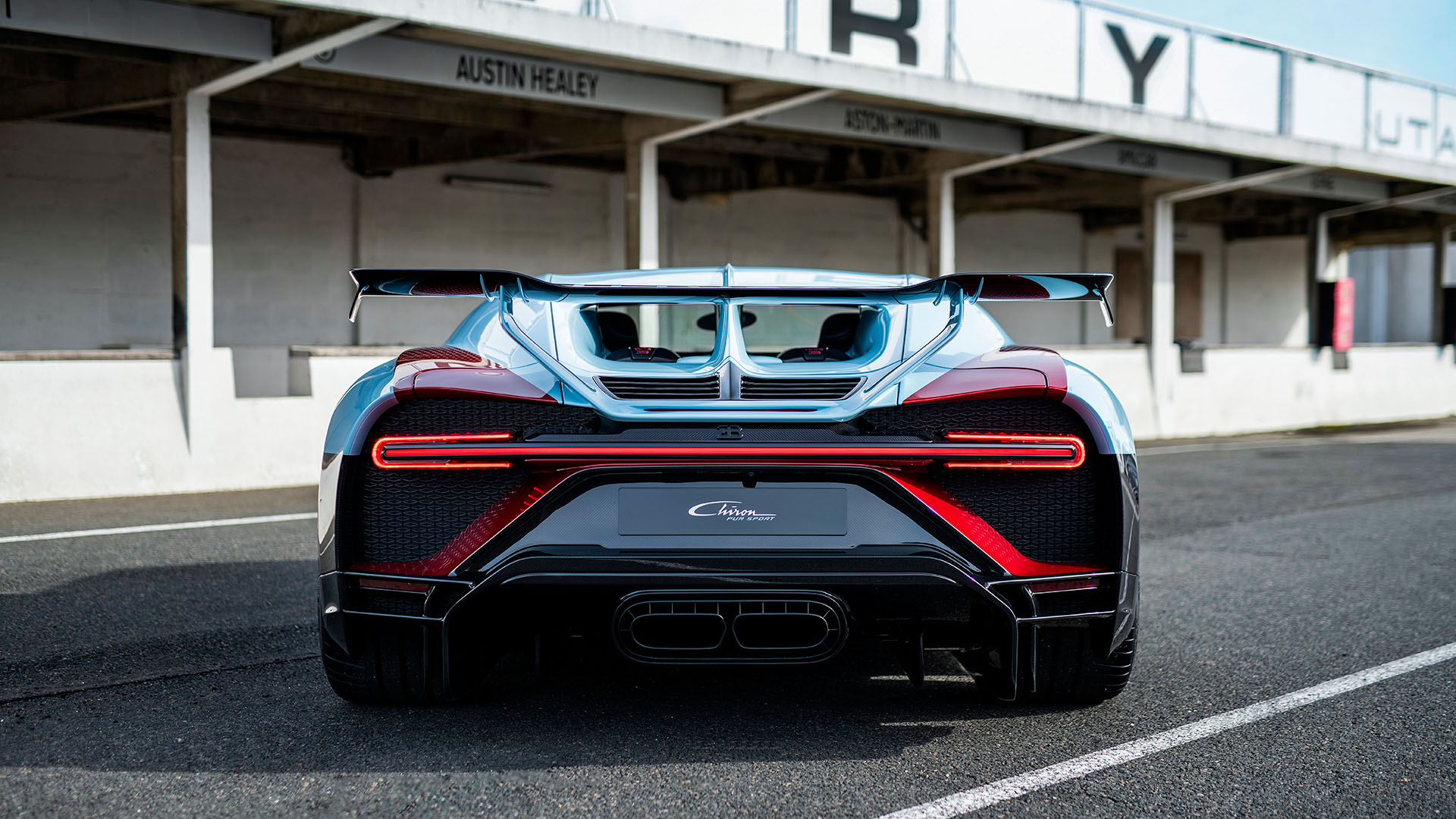 But now Bugatti wants to streamline those special commissions into an even more one-to-one support from the Sur Mesure team, guiding clients through the vast array of options and possibilities Bugatti can offer to create a unique piece of personalized art on wheels, Bugatti Sur Mesure will take the customer from the initial design concepts over the actual production of the car at Molsheim, right up to the handover of the finished hypercar … hence the complete Molsheim experience.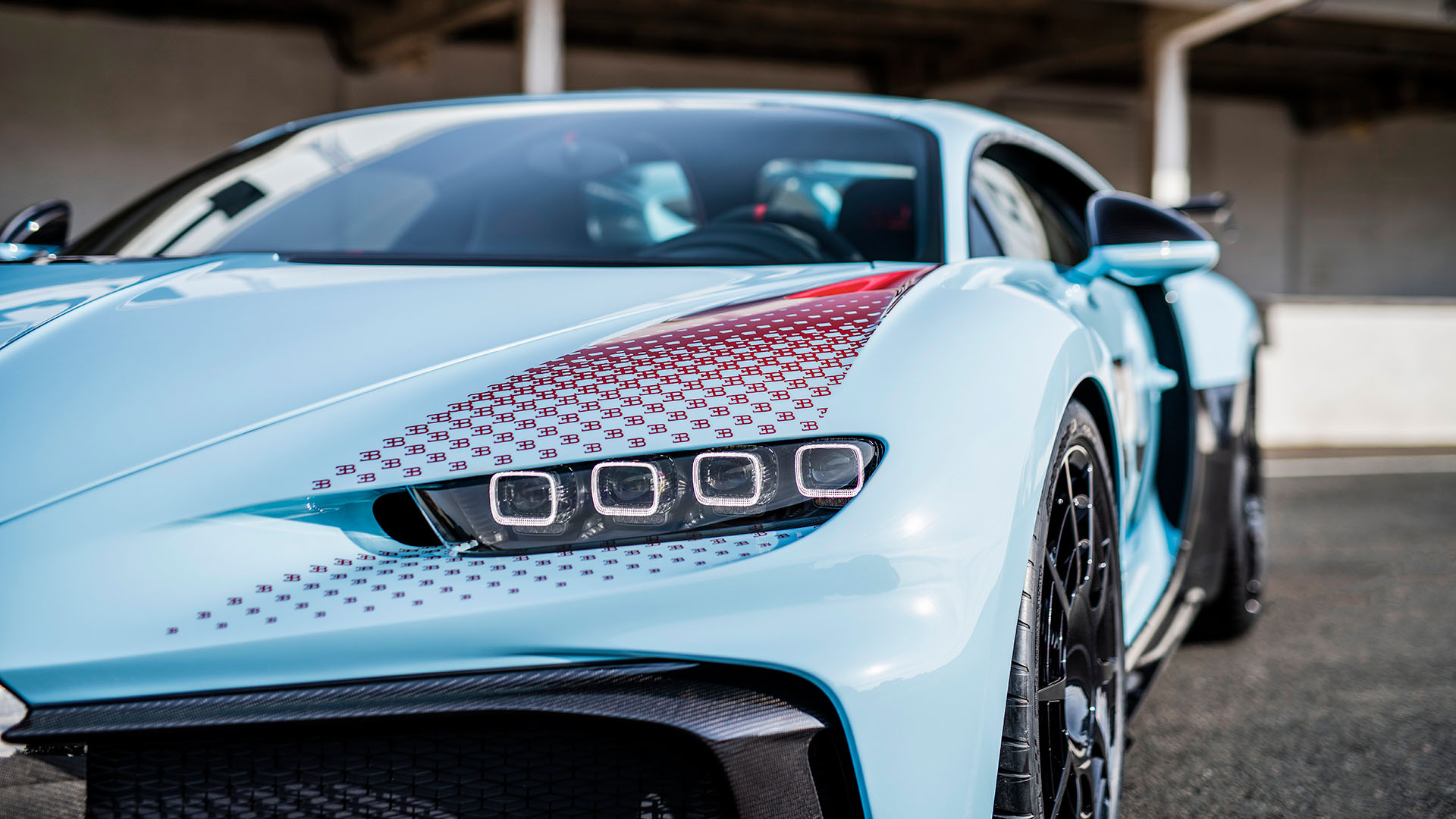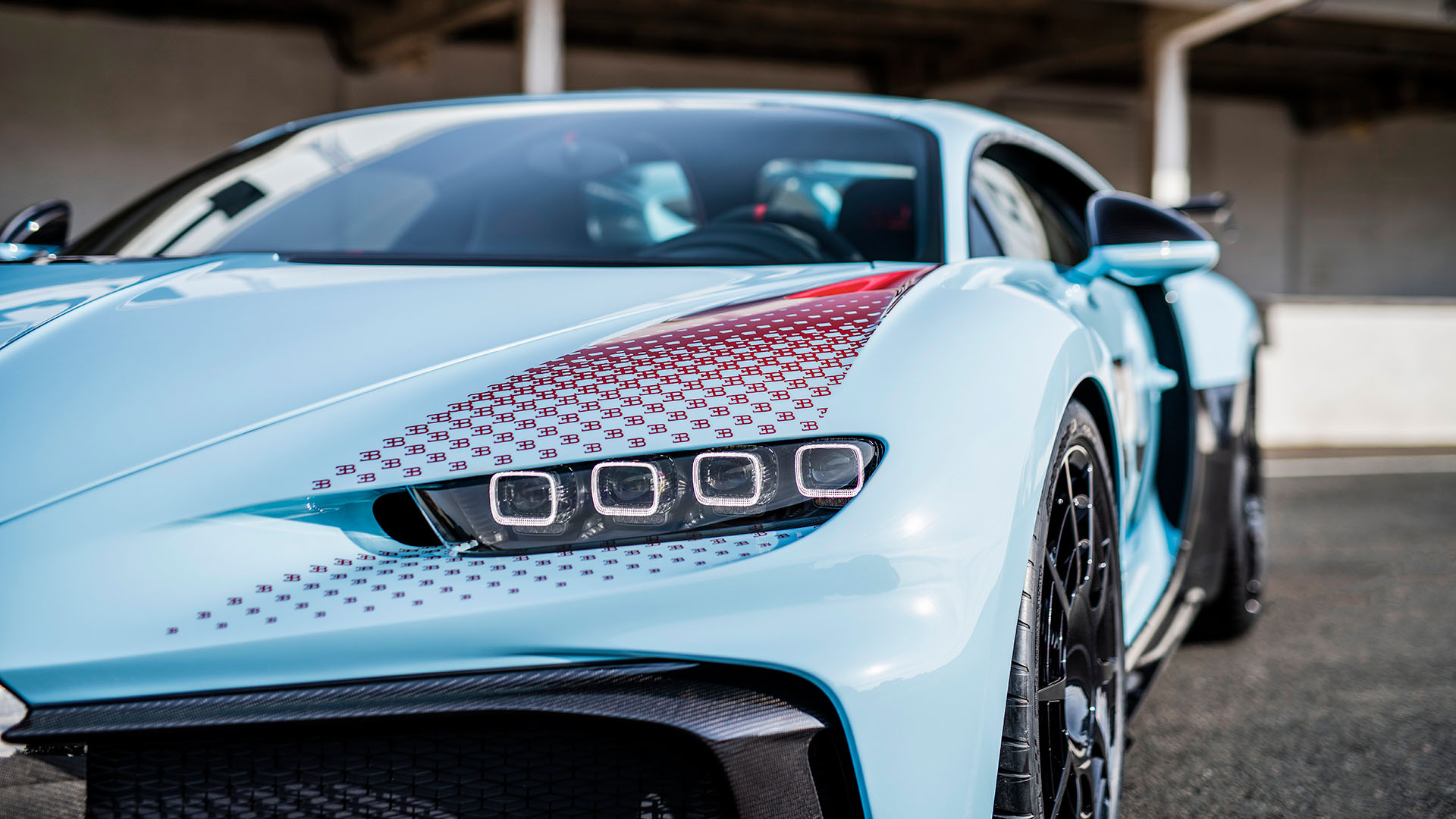 I guess it won't come as a surprise that the paint on this Bugatti Chiron Pur Sport Sur Mesure is a custom job too, both shades have been created just for this customer's car to pay homage to the legendary Grand Prix racing Bugattis of the '20s and '30s, but it didn't end there. I'm sure you've seen the pattern on the Divo Lady Bug, heck, even on the Lamborghini Huracán STO it seems those fading dots are a rage these days, but Bugatti took it to the next level with Sur Mesure … take a closer look at the fading red pattern, those are actual EB logo painted as a fading pattern, by hand, a new technique created by the Sur Mesure team.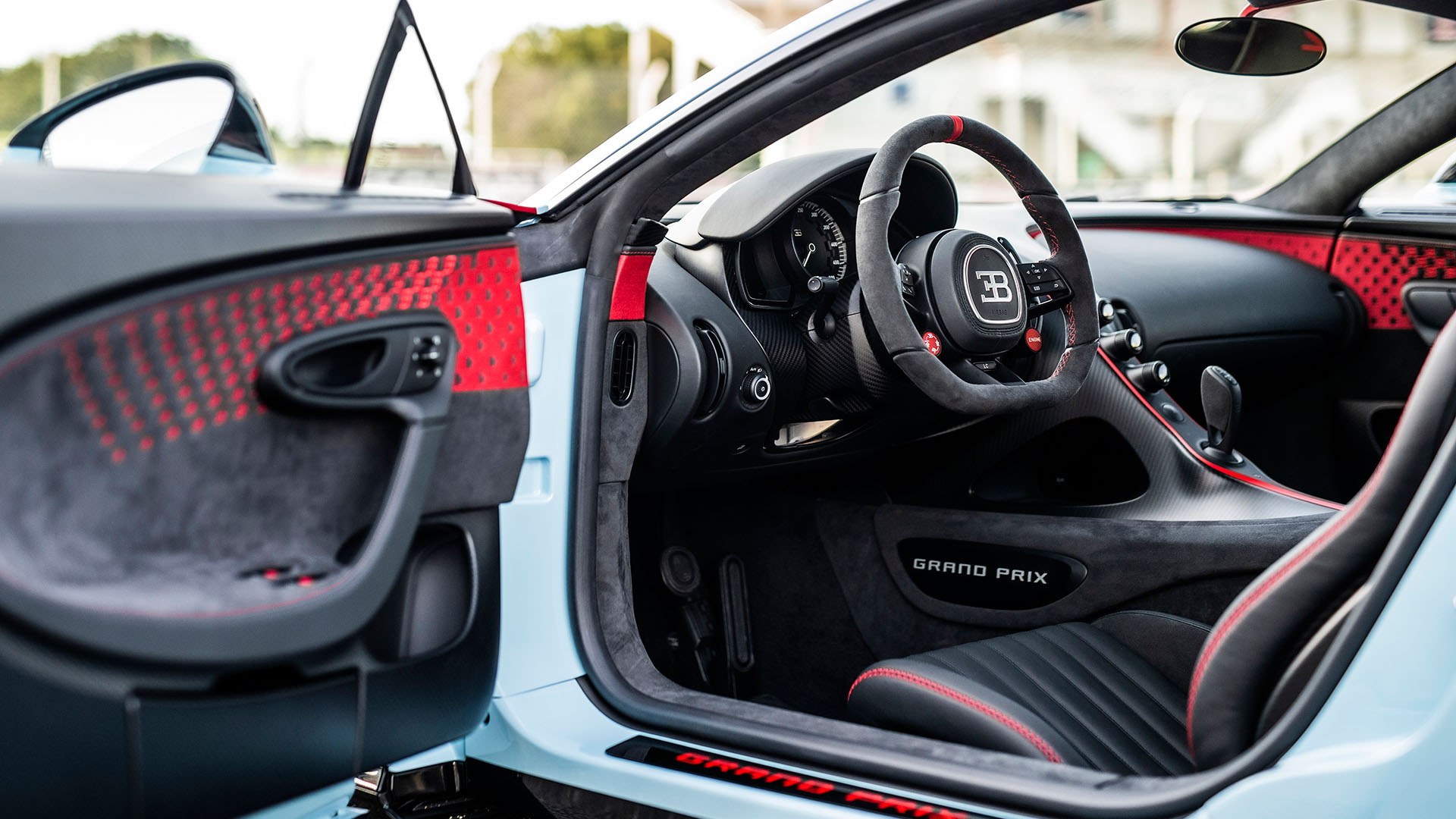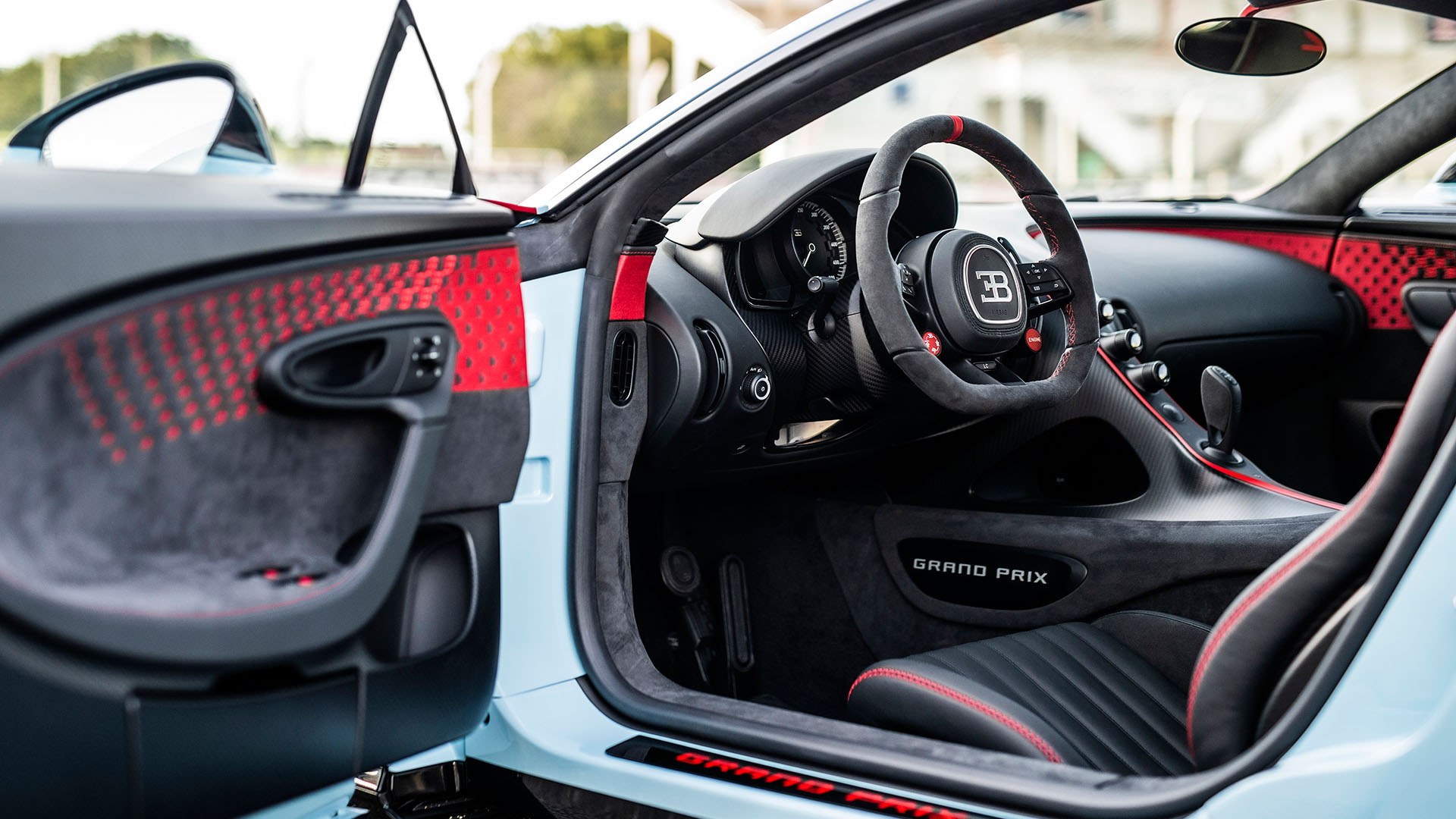 And something similar has been achieved on the interior with a multi-layer EB motif on the door panels, another process created by Bugatti's Sur Mesure team, it makes the Grand Prix door sills and plaque on the central console look simple in comparison while the '32' inspiration continues on the bespoke inlay on the central console in black anodized aluminum with a hand-painted, silver inscription.
Hendrik Malinowski, Bugatti's Managing Director for Sales and Marketing, comments: "For many years, we have worked with our clients to create their own personal vision of the Bultimate hyper sports car. It has always been a highly tailored process, but as an ever-increasing number of our clients request detailed and intricate customization, the launch of Bugatti Sur Mesure will ensure we can cater to their desires with the perfect level of detail required from a Bugatti."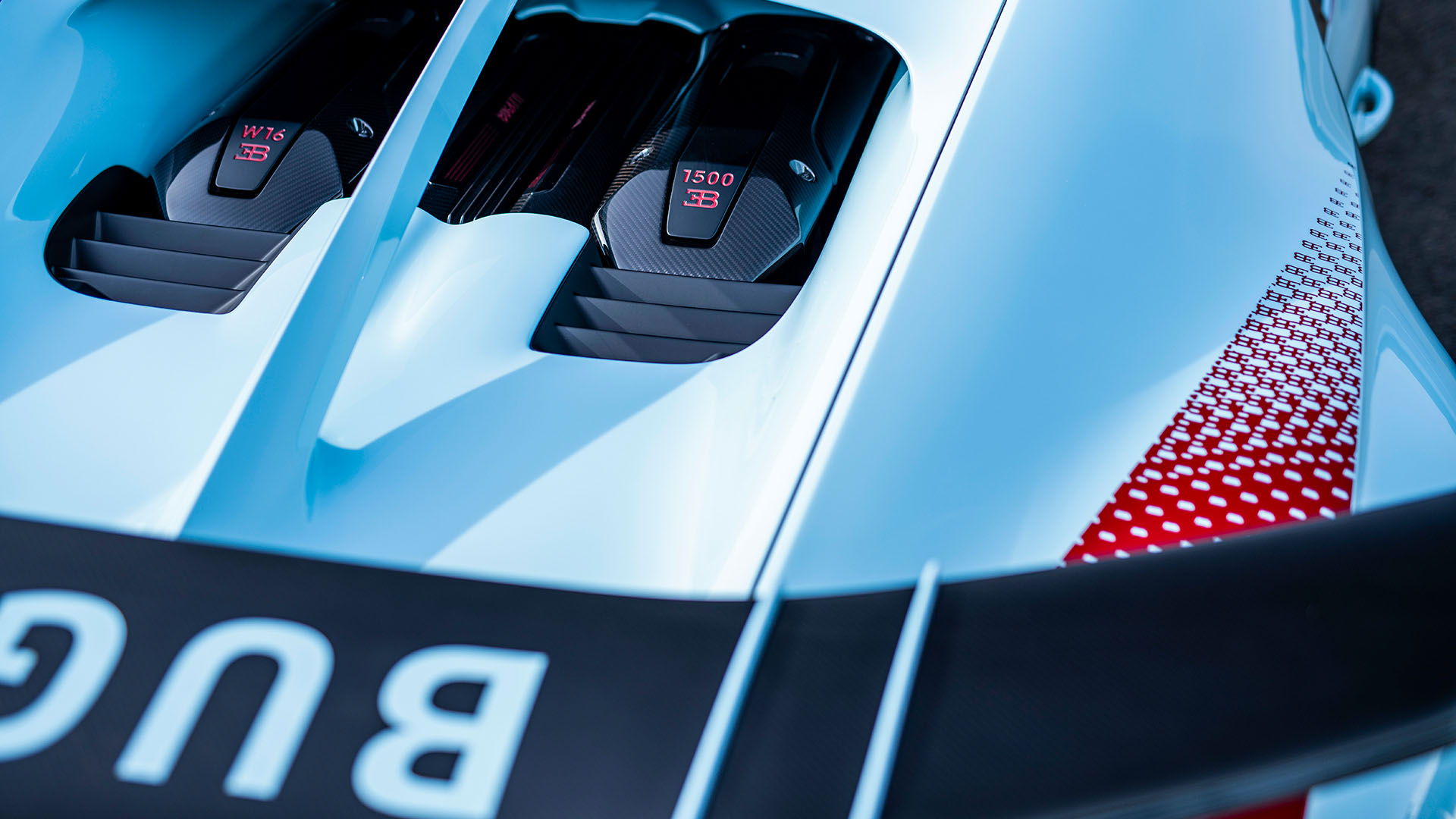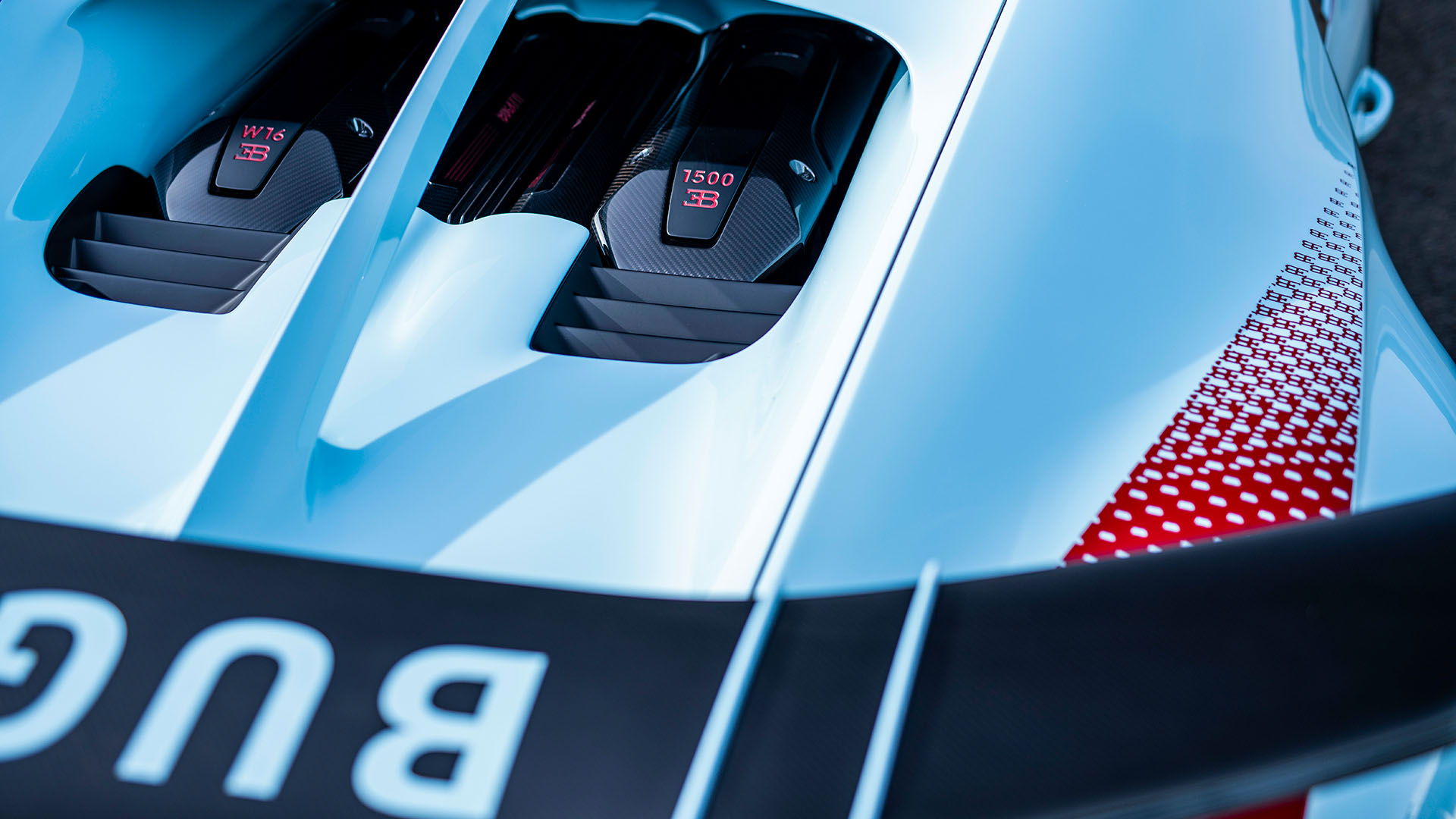 "Our clients are often deeply intrigued by Bugatti's motorsport lineage, and it's fitting that the first Sur Mesure commission should pay homage to one of our great racing icons. We're so taken with this creation that we intend to make many of this customer's ideas available to more of our clients with the Chiron Pur Sport."
So if you are looking to add a very special, one-off Bugatti Chiron to your collection, you might want to head over to your local Bugatti dealership and make an appointment for a Sur Mesure meeting with the team from Molsheim, and you might want to make that quick as the final production slots for the Bugatti Chiron are running out as we speak, production of the current Chiron hypercar is all but sold out already.