BEST LAPTOP COOLING PADS
BEST THREE COOLING PADS FOR GAMING LAPTOPS
There are no reasons why any of the above laptop cooling pads couldn't be used with your gaming laptop. They offer a number of features which will enhance your gaming experience and prevent you from having to take unwanted breaks when the action is heating up at the same time as the mercury. However, we have included a special section within our laptop cooling pad buyer guide completely dedicated to gaming laptops. These products are specifically made to cool gaming laptops which often produce even more heat than regular laptops. Let's take a look at our three favorites.
1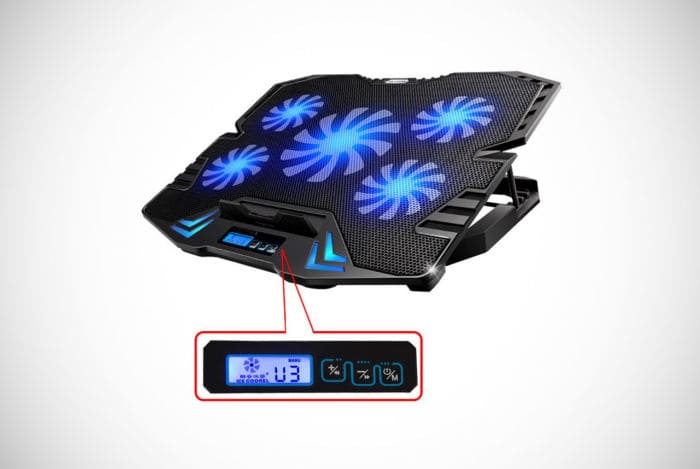 The first laptop cooling pad we will show you that has been specifically designed for laptops owned by avid gamers is the TopMate Laptop Cooling Pad. You can tell that is has been made for laptops that produce more heat because of its inclusion of five fans. Four fans are spread towards the corners of the laptop's base while there is a larger fan positioned in the center. The larger one is made to provide even more cooling airflow and all five can be seen as they are lit up with a blue LED.
The product even lets you control the fans' speed with six different settings. All this information is displayed on a small screen. Above this control panel is a flap that extends to prevent the laptop from sliding down and off the pad. This may happen because this laptop cooling pad is tilted at an angle to enhance airflow and reduce neck pains. You can choose from four different gradients or stick with the flat option if you prefer a traditional feel.
Pros
Six different fan speeds
LED blue lights illuminate fans
Five gradient settings
Easy-to-use controls
Two USB ports
Cons
Max laptop size of 15.6 inches
Specs
USB Port Count

Two

Fan Count

Five

Laptop Sizes

12"-15.6"
2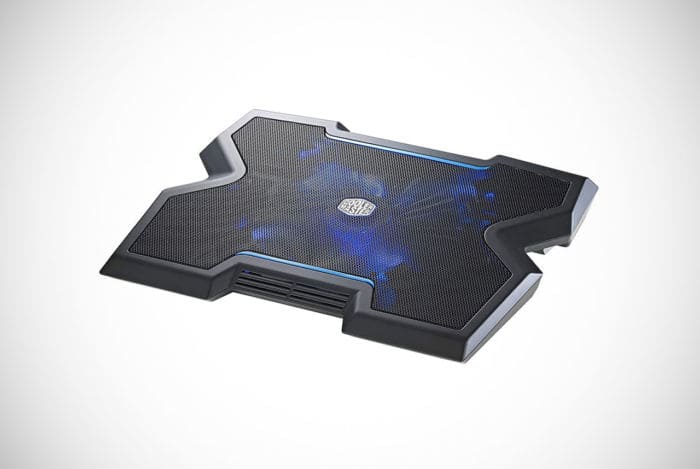 If you like the sound of the TopMate Laptop Cooling Pad but need a model that supports laptops of a slightly bigger build, then you may be in luck with this Cooler Master NotePal X3 Laptop Cooling Pad. The surface is made from a highly breathable mesh and houses a single but powerful fan. Again, like the previous model, this fan can be illuminated with a blue LED light with the flick of a switch.
It also has a control center where users can adjust the speed of the fan to the desired setting. The design has been meticulously considered because this laptop cooling pad has a unique but purposeful design. The front of the design has an indented section and a front vent. This vent doesn't just help keep your laptop cool, the breeze will also cool your hands down as you work. It outshines the previous model in some ways, but it doesn't keep up with some competition in terms of height adjustment. It can only be adjusted between two different settings.
Pros
Caters to small and large devices
One powerful fan
LED settings
Forward-facing vent cools hands
Manufactured with breathable mesh
Specs
USB Port Count

Two

Fan Count

One

Laptop Sizes

15"-17"
3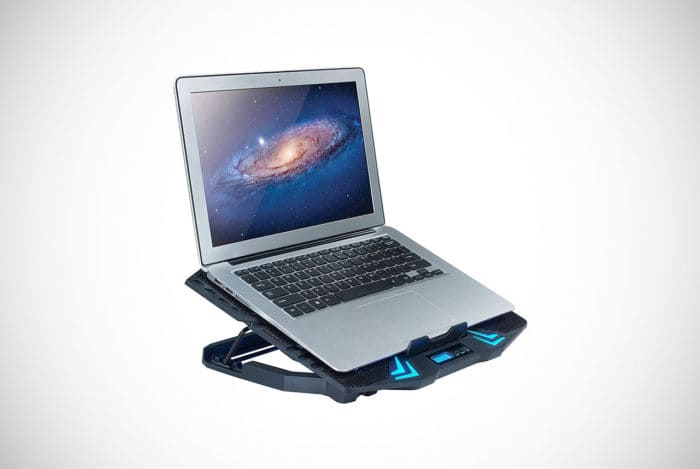 The final gaming laptop cooling pad is quite similar to the first one we showed you in this mini-series. It's similar in design and just as awesome. It has five cooling fans dotted in the corners of the pad with a larger fan in the center. All fans can be operated discreetly, or you can choose to light them up with LED lights. Don't worry, these lights don't add any significant heat to the product and counteract its main purpose. These fans can be operated in three different modes and at six different speeds.
All of the fans are controlled effortlessly in its front console. Choose between different fans and their speeds to tailor its use to your needs. Other cool features include height adjustments at five different increments. This will prevent you from getting neck pain when putting the extra hours in or rushing to make a deadline. Hit the button below to find out more about our editor's favorite laptop cooling pad!
Pros
Five Fans
Three Modes with Six Speeds
Five Height adjustment settings
Awesome aesthetics with optional LEDs
Easy-to-operate front console
Specs
USB Port Count

Two

Fan Count

Five

Laptop Sizes

12"-15.6"
What Are Laptop Cooling Pads?
All good quality laptops are designed and built in a way to regulate their temperature. They incorporate internal fans and promote airflow out of the laptop. This is done to protect the other internal components of the laptop and prevent it from breaking down. Without these mechanisms, the internal parts of a laptop may even melt. When this happens, the laptop will need parts fixing or replacing – or the whole laptop may need to be replaced. This can become extremely costly.
Most of the time, the manufacturers have integrated clever designs to keep the laptop cool and regulate its temperature. However, on many occasions, our laptops can still become too hot. This can cause your laptop to function at a much slower pace or even crash – usually right before the deadline or at the best part of your game without a recent save. There are many reasons for a laptop overheating. Some examples include but are not limited to:
Gaming – many gamers tend to experience an overheating laptop because games cause the laptop to work much harder and at the same time make it more difficult for the laptop to regulate its temperature.
Weather – those of you living in hot and humid climates will know too well that the weather can cause your laptop to overheat in a matter of minutes.
Prolonged use – if you have to use your laptop for a long duration then it may overheat.
Surfaces – if you use your laptop on a soft or non-breathable surface then you prevent the laptop's self-regulating temperature processes from working as effectively. For example, compared to working or gaming from a desk, working from bed or with the laptop on your knee will block laptop fans and airflow.
Thankfully, there is a product to help you enhance the laptop's ability to regulate temperature and to add more cooling technology. What we're referring to is a laptop cooling pad. These products are fitted to a laptop to help them remain cool, even when used for a long time by workers or gamers, and even when the weather is just too hot. Moreover, they also keep the user of the laptop cooler at the same time. These cool products are great for all types of guys and is the reason we've decided to feature the best laptop cooling pads currently on the market.
Do Laptop Cooling Pads Work?
So, do these laptop cooling pads work – and how do they work? These products do work, and they help keep your laptop cooler in a number of clever ways. They include a number of fans to keep the underneath of the laptop as cool as possible. These fans support the internal fan(s) inside your laptop. They are also angled to increase the ability for warm air to be expelled efficiently from the underneath and back of your laptop. Sometimes these areas are blocked by surfaces and other obstacles but by angling the laptop cooling pad there is optimum airflow.
There are many benefits to using a laptop cooling pad. By lowering the temperature of your laptop and your surrounding environment there is a significantly reduced chance of your work or gaming laptop from crashing at the most frustrating time. If we lose our hard work and dedication to a goal through overheating it can be super annoying. Another side benefit is that the design of a laptop cooling pad slightly raises the laptop to give a more ergonomic design. This can improve posture and remove hand and neck pain over prolonged use.
What Are The Best Brands For Gaming Laptop Cooling Pads?
Because laptop cooling pads are a niche product, many men who have yet to be introduced to them will not be familiar with the best brands who make these items. That's why we've searched around for you and found the best models from the best manufacturers, including the likes of Belkin, Tree New Bee, Kootek and Havit. These brands have built up a reputation for providing customers with ice-cool laptop cooling pads that really work. Their creations cater to different types of laptops and sizes but always maintain high standards.
Men who like to game will benefit from these laptop cooling pads the best. This is why we dedicated a small section to gaming laptop cooling pads in our guide above. When you play a game on your laptop, compared to say writing a report on Microsoft Word, your laptop has to work much harder. It has to provide the gamer with high-quality visuals, sounds and run at a much faster pace. Due to these things, those who game on a laptop are more likely to experience an overheating laptop. This is even more true for gamers who live in hotter states. As a result, gamers using laptops can benefit from the aforementioned laptop cooling pads from the best brands.
Need A Cool-Off Period? Or Ready To Buy?
You're now up to speed on the important information surrounding laptop cooling pads. But just as important, you now have a list of the best laptop cooling pads currently for sale with the most celebrated and trusted brands. We've had the pleasure of introducing you to products from the likes of Belkin, Havit, Kootek and more. With any of the models on our list, you can't go wrong and you'll never risk the condition of your laptop again – even on gaming night with the guys.
If you are torn between a couple of models then take some time to weigh up the pros and cons of both. We added these details within our feature list but feel free to click the links and check out each product in more detail for a specific comparison. We hope you managed to find a laptop cooling pad that suits you and your budget perfectly. And we hope to see you again browsing through awesome gear that men want and need. Now you have a cool and efficient laptop, there is no reason not to join us again in the near future for more expert buying guides.