BEST TENT HEATERS
BONUS PRODUCT
1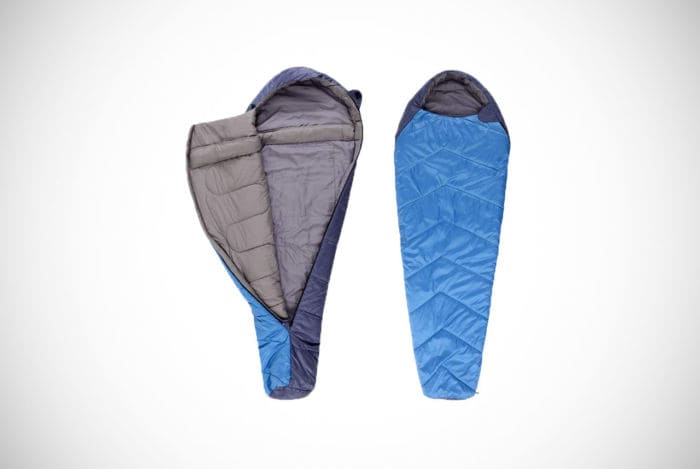 Our tent heaters have been all about keeping you warm on your weekend adventures. However, on our search for the best tent heaters, we came across a unique and innovative camping item that will also keep you warm – and we couldn't help ourselves in wanting to show it to you. So here it is. Let's take a look at the Firsermo Heated Sleeping Bag.
This sleeping bag has been made with an enclosed adapter to keep you warm when the mercury drops overnight. It can be powered using an electrical source or a power bank. You can even manage the temperature of the sleeping bag from an app on your phone. But that's not all. The app can even be adjusted so the temperature of the foot area of the sleeping bag is different from the waist area.
You may be a little bit wary of a sleeping bag with an electrical current in the outdoors. However, these bags are completely waterproof, safe and tested in the USA, the EU, China and Japan. They are super comfortable too and made with breathable fabric which has a soft texture. The product comes in a choice of four awesome colors and can be washed after removing the heating element. You even get a convenient bag to make transporting it simple.
Pros
Tailored temperature to zones
Tested and 100% safe
Machine washable for convenience
Temperature controlled by an app
Innovative product
What Type Of Tent Heaters Are Available?
Tent heaters come in all shapes and sizes. Yet, aside from their difference in appearance, there are some significant differences in how they function and keep us warm. Here is a breakdown of the most common types:
Propane tent heaters – these tent heaters are powered by a canister of propane gas. The gas is used as a fuel to provide the heat. Many of these models are made to be compatible with a one-pound/16.4-ounce propane canister which lasts many hours. In the majority of cases, the tent heater isn't supplied with these propane cans. You will have to buy your own and you will have to make sure you buy the right size for your tent heater. Don't forget to check the packaging before setting off on a camping trip or you will be left to rub sticks together to keep warm.
Catalytic tent heaters – this is where some confusion comes in. Some people often question whether a tent heater is a propane heater or a catalytic heater. A catalytic tent heater is a heater which uses catalyzed reactions to grind down molecules, resulting in heat production. They are an excellent option because of their primary benefits. They are much more efficient than heaters that are not catalytic heaters. A tent heater that uses propane gas may well be a catalytic heater. Therefore, some propane heaters listed above are also catalytic heaters. Don't worry because we've spelled them out for you!
Electric heaters – another type of popular tent heater is an electric heater. These also have some extraordinary benefits for happy campers. The use of electric means these heaters often have dials to adjust temperature setting and even fan settings. This makes them much easier to tailor to the exact temperature you need for the space you need to heat up.
However, there are some drawbacks to this sort of heater. Electric heaters need power to work. Unlike buying a cheap canister of propane, they're more of a head-scratcher when needing to be used in the outdoors. There are two popular ways around this conundrum. You can now buy solar power packs to convert sunlight into an electrical charge. These packs are a great investment and can then be used to power your electrical tent heater, smartphone and more. Alternatively, you can buy one or two power banks and use these pre-charged resources to power the heater and stay warm.
Stove tent heaters – the final type of tent heater is probably the design you're least likely to come across. These are tent heaters that require the firepower from a stove to make them work. These heaters can come in different shapes, including dish-like models and round pot-like designs (see products seven and 11 above for a comparison).
Because they use a stove to get them working, they are can be often considered as another type of propane tent heater. Just like you don't get the propane canister on those models, you don't get the propane-powered stoves on these.
However, not all heaters that require a stove work in the same way. Some products will convert the heat into radial heat to provide an innovative way of spreading warmth. On the other hand, like the dish design just above in product 11, these work in a similar way to many propane heaters.
What Are BTUs?
Among the featured tent heaters in our buyer guide, you will have noticed a repeated reference to a product's BTU rating. These ratings are important to understand the performance capabilities of each heater. Therefore, we need to explain what BTUs are, so you make the best decision when buying.
BTU stands for British Thermal Unit. It's a measurement of heat that is used across many different types of heating appliances and products. Specifically, BTU measures the heat that is required to be able to increase one pound of water by one degree Fahrenheit. The bottom line is that the more BTUs than a tent heater can generate, the more warmth and heat it can provide efficiently.
How To Choose The Best Tent Heater?
Would you rush and choose the first piece of ground to pitch your tent? Of course not, and the same applies to buying a tent heater. These decisions shouldn't be rushed to make sure you find the best model that works for you, your family, or your wolfpack, here are three top tips before buying:
Heater type – as we just explained the differences between the most popular types of tent heaters, you can use this knowledge to get the right design that works for your upcoming venture. If you don't own a stove or a power bank then the electric heaters and stove tent heaters won't be for you. In that case, try and find a propane-powered heater instead.
Dimensions – some heaters can be carried on your person while some will need to be loaded and unloaded from the car. Remember to consider the dimensions and weight of these heaters against the ways you will transport them.
Power – we just explained BTUs. You can use this information along with product specifications to find a heater that will work with the square feet you need heating up.
What Are The Safest Tent Heaters?
The idea of adding a heater to a tent – which is likely to be highly flammable – may concern some of us. Even more so if our kids are joining us on an adventure. However, despite the initial thoughts of putting a heater inside a tent, they're actually very safe. It should be said that not all heaters – even camping heaters – can be put inside a tent. Always consult your specific product's instructions or manufacturing guidelines if you're unsure.
Many of the best designs have a number of safety features to prevent accidental injury or bigger disasters. Along with tent heaters that are flameless. These are the safest types of tent heaters. Many of these ones have been designed with cages around the main heating mechanism and wide stable bases to prevent them from tipping over.
If they do tip over, the best tent heaters will automatically switch themselves off. Many have also been fine-tuned to shut down in a number of other situations, such as when low oxygen is detected or if the flame has unknowingly gone out. It's these features that you should look out for when trying to find the safest tent heaters.
You should also look out for CSA certificates. These certificates are issued by the CSA group who have tried and tested different appliances before going to market. Tent heaters will need these certificates to ensure they function accordingly to guidelines and safety regulations. If the tent heater you're looking at doesn't have a CSA certificate, don't give it a second glance.
Pitch Up, Warm Up!
Thanks for joining another one of our buyer guides giving you the lowdown on cool gear all men should own. We've had the privilege of showing you some of the best tent heaters on the market and some truly special ones from the likes of Coleman, Martin, Honeywell, Allegro and TMS. It's certainly a difficult choice between them.
We put our top 12 together to offer you many options for different types of heaters with different designs and capabilities. Not to forget we cater to all budgets here on Men's Gear. Despite showing you the different models, all the tent heaters on our guide ooze quality.
Remember to take into account our advice when making your decision and consider these tent heaters against your wants and needs. We did the same and we're currently sat around the campsite enjoying the editor's pick. Once again, thanks for taking part and we are keen to see you with us again on another buyer guide soon!
Is that a bear…