"An Extraordinary, Unfiltered Driving Experience"
The aforementioned is Alfa Romeo's catchline for the 4C; it's definitely accurate in hindsight, but could be misleading beforehand. To truly get it, you would have to drive the car first.
The Alfa Romeo 4C is arguably the marque's most important car in decades and is a notable amalgamation of the company's values – building affordable cars with an outspoken spirit and unique philosophy. This means that Alfa Romeo has engineered the 4C (available as a Coupe or Spider) to deliver uncompromised performance while pricing it at a level that many people can afford.
Alfa Romeo 4C
Working in tandem to achieve this goal, are its compact 237-horsepower turbocharged engine and – thanks in huge part to its use of a carbon fiber tub chassis – its ridiculously low 925 kg curb weight (1,118 kg in the US due to extra bracing required to meet crash regulations).
This provides drivers with the sensation of supercar characteristics, particularly at the limit. However, that's about where the similarities end when pitted against the standards of a modern supercar. Afterall, it starts at just $57,495 USD, so we should accommodate the notion that the 4C will have its limits and has to make sacrifices somewhere.
Engine & Transmission
The transverse 1.7L turbocharged powerplant packs quite a punch, especially when measured by the horsepower per liter. Producing 237-horsepower @ 6,000 rpm and 258 lb-ft of torque @ 2,200 rpm, the engine delivers a robust 139-horsepower per liter.
Due to the 4C's low curb weight and thoughtful aerodynamics, it is able to accelerate from 0-60 mph in 4.1 seconds and achieve a top speed of 160 mph. The low-end torque ensures that the car doesn't have to be driven in a high-strung manner in order to pass traffic during the daily commute, or attempt an overtake on the race track.
Power is sent to the rear wheels through a 6-speed dual-clutch transmission; unfortunately, a manual transmission is not an available option, which would have seemed like an obvious thing to have. However, the DCT offers both precision and convenience, while being complemented by the Alfa DNA Pro Drive Mode Selector which allows the driver to set up the car for different uses.
Chassis Design & Interior
Now found across the Italian marque's entire line-up, the Alfa DNA Pro Drive Mode Selector allows for four different driving modes in the 4C – Natural, All Weather, Dynamic and Race.
The latter two modes allow for greater throttle response from the engine and transmission, with Race mode also turning off all electronic driving aids. Natural mode is the standard for regular street driving with its more conservative settings, while All Weather mode is considerate of inclement weather conditions such as rain and snow.
Brembo brakes come standard with the car, and offer plenty of bites and very analog feedback. They work well with the entirely unassisted steering, providing the chassis with an unadulterated, electronic-less driving feel. Arguably this is the best feature about the car, should this be your cup of tea.
The car's lightness (only 925 kg, or 1,118 kg in the US), rigidity, low center of gravity, suspension, and aerodynamics all work together in a harmony to provide a rewarding experience for drivers who both appreciate, and have the skill to drive at the limit. With that in mind, the rawness that is required for tactile, spirited driving precludes a sense of comfort and refinement; and this is felt especially during daily driving.
The cramped cabin is full of exhaust notes and engine noises – after all, the 4C is about saving weight, so sound deadening and creature comforts play second fiddle to keeping on the diet.
To save not just weight – but also money – the interior is decidedly basic, with primarily plastic pieces – as opposed to carbon fiber – making up the majority of the space.
Space for anything other than two people is also at a premium in this two-seater, and anything more than a carry-on won't be joining you for the trip.
Verdict
The Alfa Romeo 4C is an unfiltered, track-focused car that intends to emulate supercar driving characteristics and evoke the sensations of racing enthusiasts. It actually does this very well but doesn't bring up many positive talking points beyond that.
Buyers who are looking for a well-rounded sports car – one that offers performance without sacrificing refinement, or vetoing any and all practicality – need to look elsewhere.
If sophistication isn't your emphasis, but track performance capability is, then the Alfa Romeo 4C could be a good pick. Besides finding a used Lotus Exige, there isn't anywhere else you can go to get this unique of a combination of chassis, engine, and design, at this price.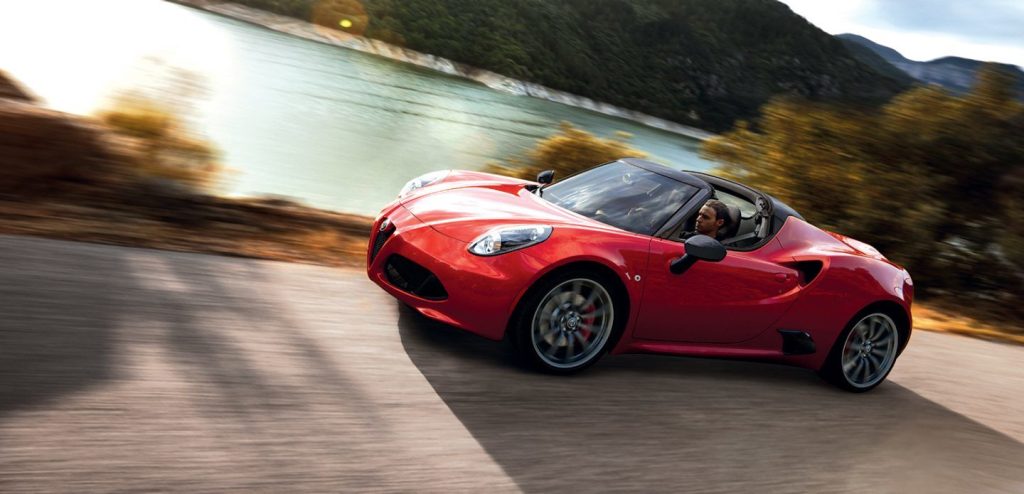 Specifications And Performance Summary
Pricing And Model Info
| | |
| --- | --- |
| Make | Alfa Romeo |
| Model | 4C |
| Generation | 2013 – Present |
| Car type | Coupe / Targa |
| Category | Series Production Car |
| Built At | Modena, Italy |
| Base Price (USD) | $57,495 |
Chassis And Powertrain
| | |
| --- | --- |
| Curb Weight | 925 kg, 1,118 kg* (2,039 lbs, 2,465 lbs*) *US model |
| Layout | Mid-engine |
| Driven wheels | Rear-wheel drive |
| Engine | Inline 4 |
| Aspiration | Turbocharged |
| Displacement | 1.7 Litres |
| Transmission | 6-speed DCT |
Engine Output
| | |
| --- | --- |
| Power | 237 hp @ 6,000 rpm |
| Power / litre | 139 hp / litre |
| Power-to-weight ratio | 8.6 lb / hp |
| Torque | 258 lb-ft @ 2,200 rpm |
Performance
| | |
| --- | --- |
| 0-60 mph | 4.1 seconds |
| 0-100 mph | 11.1 seconds |
| ¼ mile | 12.9 seconds @ 107 mph |
| Top Speed | 160 mph (258 km/h) |
Photo Gallery
Video Reviews
[embedded content] [embedded content] [embedded content]