More Than Just An "Entry-Level" Ferrari?
The new Ferrari Portofino is the de facto successor of the best-selling Ferrari in history – the Ferrari California T. Following in the steps of its predecessor, the Portofino is a grand touring, 2+2, hardtop convertible with its engine located in the front.
It is fairly obvious that Ferrari designed the Portofino to have more mass-market-appeal than the rest of its predominantly mid-engined, race-car-inspired-line-up. Ferrari wanted the car to be more relatable – attracting first-time buyers to the Ferrari brand with its relatively low price point (starting at $ USD $215,000), everyday driveability, comfort, and versatility.
In fact, Ferrari has invested a conspicuous amount of time and money into market research in order to determine in great detail how the evolution of their V8 twin-turbo GT would play out. So, we know that based on its price the Portofino is an entry-level Ferrari. Purists would scoff at the notion of such a thing existing – so perhaps the real question should be "is it more entry-level or is it more Ferrari"?
2018 Ferrari Portofino
Named after one of Italy's most beautiful towns, the Portofino is far from what Ferrari's most hardcore fans – who are predictably the biggest critics of the Portofino – expect from the very manufacturer that has produced automotive icons such as the F40, Enzo, 458 Italia, and LaFerrari, to name a few.
However, Ferrari fashioned the Portofino to dominate in its particular segment – one which consists of the likes of the Porsche 911 Turbo Cabriolet, Mercedes AMG SL65 and Aston Martin DB11. In order to do so, Ferrari says, the Portofino must be "a GT that represents a unique combination of sportiness, elegance and onboard comfort".
With that in mind, Ferrari has ensured that their design incorporated a powerful turbo V8 engine, a chassis benefiting from a multitude of vehicle dynamics which promote responsiveness and superior ride comfort, and an aggressively-styled and sleek fastback silhouette.
Features and Highlights
Engine
The Portofino is the beneficiary of Ferrari's renowned and award-winning V8 Turbo engine, which should provide as much delight for the Ferrari fanatic as it does for the more unassuming target market.
The 3.9L unit produces 591-horsepower at 7,500 rpm and 560 lb-ft of torque at 3,000 – 5,250 rpm and according to Ferrari, is capable of 0-100 km/h in 3.5 seconds and a top speed of 320 km/h.
Hardly what would be considered "fast" for Ferrari's current outfit, but more than adequately attributed for a supercar.
Chassis
Not unlike virtually every Ferrari off the assembly line these days, the engine is mated to a 7-speed dual-clutch transmission, with paddle shifters fixed on the steering column. The chassis, steering, and suspension have been comprehensively improved over the California T to ensure that ride comfort was not sacrificed for improved handling.
The car is fitted with a third generation rear differential and integrated with F1-Trac which improves both mechanical grip and control at the limit. Electric Power Steering (EPS) improves steering responsiveness while a magnetorheological damping system (SCM-E) reduces body roll and simultaneously improves absorption over bumps and harsh road surfaces.
Exterior
The Ferrari Design Centre has penned the Portofino as an "aggressively styled car with a two-box fastback configuration". Most notable is the retractable hardtop which allows the car to transform between coupe and convertible while maintaining an elegant and dynamic stature in either form.
Overall, the exterior design of this grand tourer – which is a harmonious symphony of beauty and beast – appears to make the car more likened to the Ferrari F12 than its predecessor, the California T.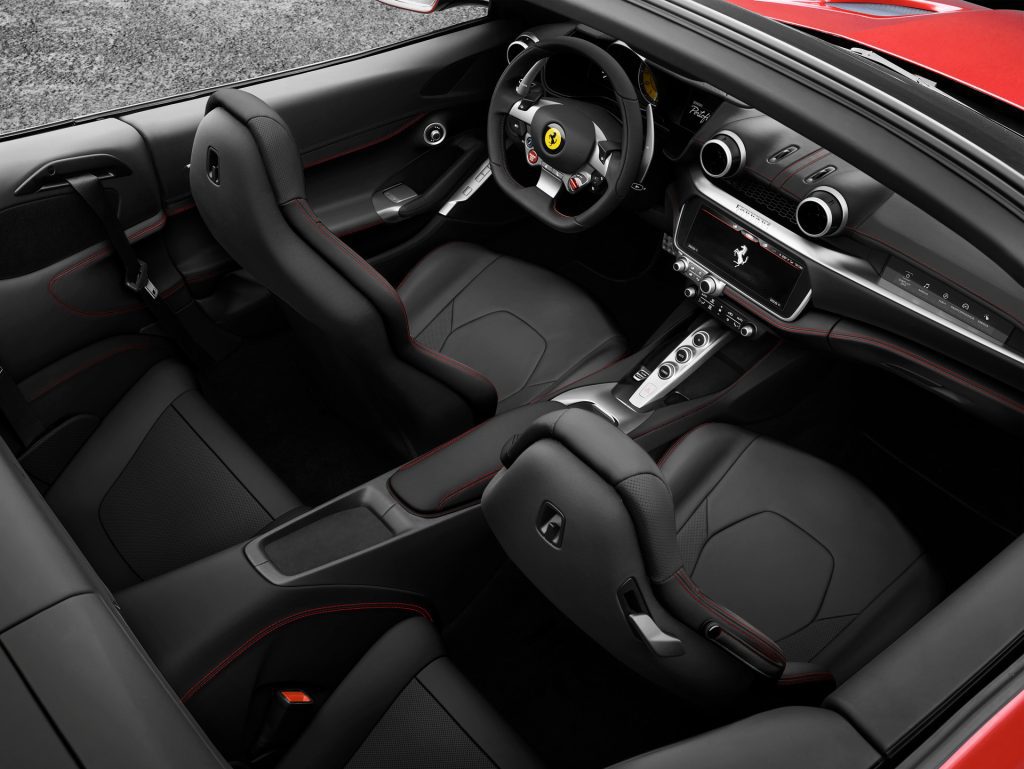 Interior
To create the cabin that its target market demands, the Portofino is lavished with a slew of features which cater to creature comforts, convenience, and overall luxury.
A 10.2" touchscreen infotainment system, state-of-the-art climate control system, 18-way electrically adjustable seats and passenger display, are among the Portofino's standard fare. The combination of leather, carbon fiber, and aluminum accents provides a posh, yet sporty feel to the interior.
When shopping for a 2+2, buyers should never be sold on having plenty (or even enough) legroom in the back seats – the Portofino is no exception. Small children are the only demographic who might be comfortable with longer excursions in the back of the car.
Verdict
We already know that if you want a faster and more performance oriented Ferrari, you wouldn't be shopping for a Ferrari Portofino.
However, the Portofino for what it is – is unquestionably a great improvement over its predecessor. Afterall, it has more power and less weight, while being more enjoyable to drive and arguably, better looking than the California T that it is replacing.
Auto journalists such as Car Magazine and Car and Driver note that the Portofino is very engaging to drive spiritedly, sans the desire to go around breaking any lap records. Ultimately, the Ferrari Portofino is the amalgamation of what it was designed to be – a Ferrari which offers a unique blend of daily driving practicality, performance, and luxury.
The Ferrari Portofino will probably strike a chord with those who are cross-shopping in this segment. Interestingly, 70% of buyers of the California T were new customers to the marque. If the Portofino is able to achieve similar success, I would consider that a big win for Ferrari.
Specifications and Performance Summary
Pricing and Model Info
| | |
| --- | --- |
| Make | Ferrari |
| Model | Portofino |
| Generation | 2018 – |
| Car type | Hardtop Convertible |
| Category | Series Production Car |
| Built At | Maranello, Italy |
| Introduced | 2018 |
| Base Price (US) | $215,000 |
Chassis and Powertrain
Curb Weight

1,664 kg

Layout

Front-engine

Driven wheels

Rear-wheel drive

Engine

V8 – 90

°

Aspiration

Turbocharged

Displacement

3.9 Litres

Transmission

7-speed DCT
Engine Output
| | |
| --- | --- |
| Power | 591 hp @ 7,500 rpm |
| Power / litre | 152 hp / litre |
| Power-to-weight ratio | 6.21 lb / hp |
| Torque | 560 lb-ft @ 3,000 – 5,250 rpm |
Performance
| | |
| --- | --- |
| 0-100 km/h | 3.5 seconds |
| Top Speed | 320 km/h |
Photo Gallery
Video Reviews
[embedded content] [embedded content] [embedded content]