When you hear the word "disaster," you think destruction, deaths, calamities, famine, or other large-scale chaos that brings about any form of tragedy. Often, we associate it with the natural, a brunt of Mother Nature's ire against the mistreatment of resources. You have hurricanes, earthquakes, tsunamis, wildfires, avalanches, and so on.
Then you have the manmade disasters: explosions or acts of terrorism, fires, oil spills, floods, and the list go on. These are the destructions that are the result of man's actions, incompetence, and stupidity, which also contribute to nature's decline.
Disaster films mostly revolve around these elements because they are terrifying and inspiring. They evoke raw human emotions of fear, grief, loss, happiness because they are believable. It happens and it has happened.
However, as of late, filmmakers have also swayed to the fictional or fantastical kind: zombie apocalypse, alien invasion, which are also entertaining but at times not so much affective. Regardless of how you define disaster and look at it from different perspectives, it still leads to loss of life and the mass eradication of resources – animate or inanimate alike.
These are the reasons why disaster films are such a hit and why they are one of cinema's oldest genres because the truth is, disasters are mostly inevitable. It's the aftermath that pulls the audience in and gives the movie its depth and meaning: how the victims or humankind survive and persevere. How they learn from the event, pick up the remnants of their previous life, and move on to open another chapter were they hopefully come out strong and remain optimistic.
With all that said and to get you in the mood, we've sifted through the offerings on Netflix to give you only the best of the disaster films from its back catalog. These are the best not just based on ratings but on the "disaster" factor if you know what I mean.
We have everything from Arctic escapades gone wrong, animal attacks, earthquakes, zombie apocalypse, chemical disasters, and the list goes on.
Watch Dwayne "The Rock" Johnson become the ultimate hero who saves the day during a massive earthquake in San Andreas. Then you have Brad Pitt on a race against time to stop the spread of a deadly disease that turns humans into rampaging zombies in World War Z.
Foreign films such as South Korea's Pandora focuses our attention to manmade disasters especially those of the nuclear kind, while Norwegian film The Wave hits close to him with its premise about the dangers and ramifications a tsunami can bring to unsuspecting victims.
Disaster films can be fictional such as the Korean zombie flick Train to Busan and those alien invasion types including Extinction and Beyond Skyline.
Then, of course, disaster films do not have to be entirely fiction, since there are also those based on true stories. You have Everest, a tragic tale about the loss of lives during a commercial climb up the famous mountain and there's Deepwater Horizon, which tells the horrors of an oil drilling rig explosion.
Netflix has a plethora of these type of films but can be hard to locate. This is why we have picked out only the best from its back catalog and compiled them for your convenience. Check out the titles below so you can start binge-watching these disaster movies on Netflix.
1
World War Z (2013)
Life for a former United Nations investigator and his family, and all of humanity for that matter, takes a sudden drastic turn when a mysterious infection turns the human population into raging zombies. A single bite from a person infected with the lethal virus turns people vicious and feral.
Gerry Lane (Brad Pitt) and his family nearly survive and as the pandemic spreads, he feels it's his duty to find the source of the infection and find a way to stop its spread.
This film jives with the usual virus-turns-people-into-zombies premise but there's a twist to the story: the infection is selective. It's very particular with whom it attaches to. Halfway through the film, you'll realize that it only spreads to healthy people and saves the already sick from getting worse.
This one is a thrilling and engaging film with all the adrenaline you can possibly get from a zombie flick: tension, chases, destruction, jump scares, and not to mention the hide-and-seek (lots of 'em).
Fans of this genre and of the survival kind will find a gem in World War Z because the zombies in this film are not those you see in The Walking Dead. Instead, they are fast and slightly smarter.
Directors: Marc Forster – Screenplay: Matthew Michael Carnahan, Drew Goddard, Damon Lindelof – Cast: Brad Pitt, Mireille Enos, Peter Capaldi, Daniella Kertesz – Run Time: 1h 56 min
2
San Andreas (2015)
A father will do anything to protect the ones he loves. In this case, you have Raymond Gaines (Dwayne Johnson), a helicopter rescue pilot who never imagined that his love for his family and his skills would be put to the test in the most grueling way.
In the aftermath of a massive earthquake in San Andreas, California, the biggest earthquake in history, Gaines and his estranged wife Emma (Carla Gugino) journey amidst the chaos, destruction, and danger to find their daughter Blake (Alexandra Daddario).
San Andreas has a simple survival and rescue story but it makes a great disaster movie because of its amazing special effects. The tsunami scene looks so extreme it's unbelievably scary.
Moreover, there is depth in the characters. You become invested in the main characters' story from the get-go and you want to see them come out of the destruction alive.
San Andreas is a nail-biting piece of action film and edge-of-your-seat suspense with a dash of romance and drama. It leaves you wondering about the possibility of it happening in the future, especially since the disaster is a work of Mother Nature and that the San Andreas fault is real. Add to the worry is the fact that the fault has been terrorizing Southern California residents in the past few days with small quakes.
Directors: Brad Peyton – Screenplay: Carlton Cuse, Andre Fabrizio, Jeremy Passmore – Cast: Dwayne Johnson, Carla Gugino, Alexandra Daddario – Run Time: 1h 54 min
3
The Wave (2015)
This is hands down one of the best tsunami disaster movies of 2015. This nerve-wracker of an impressive film puts Hollywood disaster movies to shame with its brilliant cast, acting, cinematography, and storytelling.
It has all the elements that make you feel all sorts of emotions: happiness, anger, fear, terror, grief, pain, disbelief (I can go on but best if you watch it yourself to know what I mean). The tone even makes the danger even more appalling.
The film starts out slow and sets up the "calm before the storm" atmosphere really well. Then tragedy strikes and there's nothing left to do but try to survive.
There are no other words to describe this movie except that it's deeply emotional and upsetting, which is what makes a disaster movie great, because it focuses on raw human emotions to make a compelling story than totally relying on scenes of destruction.
Directors: Roar Uthaug – Screenplay: John Kåre Raake, Harald Rosenløw-Eeg – Cast: Kristoffer Joner, Ane Dahl Torp, Jonas Hoff Oftebro – Run Time: 1h 55 min
4
Train to Busan (2016)
This South Korean zombie flick was not only a hit locally but also internationally. It gained mixed reviews but on the positive side, it's a thrilling treat if you're a fan of running or swift zombies.
It pulls viewers with its unique storytelling and creative concept of a zombie onslaught. Imagine having to fight off hordes of these vicious monsters inside the claustrophobic environment of a train. You have to be creative in your means of escape let alone in how you dodge their attack.
The pacing is also just right as not to bore viewers or put an abrupt end to the film. There are moments of danger and suspense mostly presented in the most unexpected way.
What makes this film even more affective is its use of the family setting to bring out the human side of the story. It's not all about the chases, the scares or the thrill. You also get to bond with the characters, even the minor ones, as the story progresses.
You have a pregnant wife and his brave, courageous husband who would risk everything to save his family. Then you have a young girl who only wants to feel loved and be close to his estranged father. Their bond is put to the test in the most horrendous way (should I say tragic?).
When it comes to disaster films like Train to Busan, you can only hope that the families don't break apart or none of them ends up dead, which is, of course, becomes mere wishful thinking.
Directors: Sang-ho Yeon – Screenplay: Joo-Suk Park, Sang-ho Yeon – Cast: Yoo Gong, Yu-mi Jung, Dong-seok Ma, Su-an Kim – Run Time: 1h 58m
5
Pandora (2016)
One way to show how large-scale businesses manipulate its people and how the government turns a blind eye to obvious problems is through movies and this is what Pandora is about.
It's a story about a nuclear disaster that our protagonist, a simple power plant worker and family man, tries hard to contain using minimal resources and just his bravery and strength.
Pandora is a South Korean disaster movie about a nuclear explosion that happens in the aftermath of an earthquake. Pyung-Sub (Jung Jin-Young) expresses his concerns to the government about the conditions at the power plant at a small Korean town where he works, but nobody from the government wants to listen to him.
Things escalate from there after an earthquake strikes the town and causes the power plant to explode. The disaster spirals out of control and threatens the entire nation. The workers have no choice but to take it upon themselves to contain the destruction and prevent another nuclear disaster even if it means putting their lives at risk.
Pandora is such an emotional journey because it features characters that represent real people with a sense of duty. It makes the film more relatable and you get to invest emotions for all the characters because their stories are given time to develop.
It's a great disaster movie with a moral story. It leaves you puffy-eyed from all the crying.
Directors: Jong-woo Park – Screenplay: Jung-Woo Park – Cast: Do-bin Baek, Seung-Hoon Choi, Bae Gang-Yoo – Run Time: 2h 16m
6
Everest (2015)
Commercial expeditions up Mount Everest always present a threat to life. It's a thrilling adventure but not one to be taken lightly, especially when you have Mother Nature bent on ruining your climb.
This is what happened to two expeditions: one led by New Zealand's Robert Edwin Hall, the other by Scott Fischer. Based on the true tragic May 10, 1996 event that took the lives of many, Everest retells the horrors of that day when the group makes their final ascent toward the summit.
A vicious storm strikes without warning and engulfs the climbers in one of the fiercest blizzards ever experienced by man. They had to brave the harsh cold temperature and fight to stay alive.
Everest is one of those man vs. nature type of disaster and survival film in that it highlights the men's plight to live in the wake of the disaster. It also exposes the bravery and sense of heroism in each of the climbers as they try to save one another and seek help.
It's tense and terrifying and the cast did well in eliciting these emotions from the viewers with their superb acting.  It's a decent enough film about a disastrous event caused by Mother Nature's wrath and how man tries to cope with the consequences.
Directors: Baltasar Kormákur – Screenplay: William Nicholson, Simon Beaufoy – Cast: Jason Clarke, Josh Brolin, Jake Gyllenhaal, Thomas M. Wright, Keira Knightley – Run Time: 2h 1m
7
Deepwater Horizon (2016)
Ordinary people become extraordinary and turn into your everyday heroes in this emotional tribute to the real-world disaster Deepwater Horizon oil spill in 2010. This film is a disturbing recollection of that tragic day on April 20, when the oil-drilling rig in the Gulf of Mexico exploded and ignited a massive fireball that took the lives of many.
The film realistically presents and depicts the actual incident very well. It's an engrossing and emotional story but don't expect it to be very intense action wise, compared to those high in visual effects like San Andreas and 2012.
Similar to Pandora, this film tells viewers about the dangers of cutting costs or cost-cutting measures when safety is at risk and supposedly of prime importance. It also educates viewers on the technicalities of deepwater drilling.
Deepwater Horizon is a good disaster movie with great acting from its cast. Mark Wahlberg and Kurt Russell take center stage as the heroes who try their best to survive and rescue their coworkers despite the uncertainty of their fate. It definitely has its touching moments and one that makes you appreciate your job behind the desk.
Directors: Peter Berg – Screenplay: Matthew Michael Carnahan, Matthew Sand – Cast: Mark Wahlberg, Kurt Russell, Douglas M. Griffin, John Malkovich – Run Time: 1h 47m
8
Extinction (2018)
Sci-fi fans are in for a treat with the Netflix original movie Extinction, an alien invasion type of film but with a twist. Despite its low ratings, it has a pretty solid and entertaining storytelling from start to finish.
It's an engrossing film but don't get fooled by its slow buildup. It has a slow pace so you can really understand what's going on. There's no action in the first 20 minutes or so and the story relies on dialogue.
Once the movie picks up you can bet sweaty palms and heart-racing moments as the survivors try to escape the invasion. And just when you have an idea where the story is heading, you are presented with a big blow of a realization about what's really happening. There is not just one but several twists in the story, so better watch out for them.
Acting wise, the lead stars Michael Peña and Lizzy Caplan are good examples of bad chemistry but for a good reason (it's what the filmmakers want). I won't spill more details on that for you but let's just say their chemistry (or lack of it) serves the purpose of the story.
Directors: Ben Young – Screenplay: Spenser Cohen, Brad Kane, Eric Heisserer – Cast: Michael Peña, Lizzy Caplan, Amelia Crouch, Mike Colter, Tom Riley – Run Time: 1h 47m
9
Beyond Skyline (2017)
Another surprisingly entertaining alien invasion film is Beyond Skyline, which follows a group of survivors as they try to escape the onslaught through the underground subway tunnels. The story kicks off when strange blue lights lure people and suck them into various spaceships.
Mark Coley (Frank Grillo) leads a group of survivors to safety while on a quest of his own to rescue his estranged son from one of the alien spaceships.  The film has its weakness such as predictable storytelling and a bit of weak acting and poor character development. The action scenes are very good though.
Regardless, it's engaging from start to end. The filmmakers also didn't rely purely on CGI for visual effects but incorporated practical effects as well. The alien costumes look downright horrendous and genuine, and at times comical.
Beyond Skyline also filled in the gaps from the first film Skyline. It's a good supplement to the original since it reveals what happened to Jarrod and his family. If you watch this film with an open mind then you'd enjoy it.
Directors: Liam O'Donnell – Screenplay: Liam O'Donnell – Cast: Frank Grillo, Bojana Novakovic, Jonny Weston, Iko Uwais – Run Time: 1h 46m
10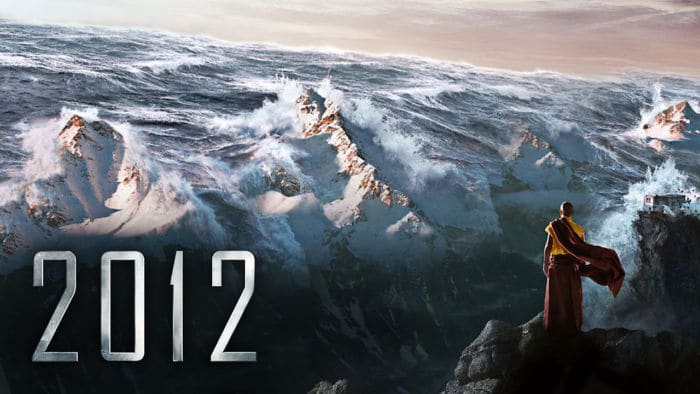 2012 (2009)
2012 is a disaster movie of epic proportions. It becomes so unrealistic going forward but you can't stop yourself from watching. It's thrilling and engaging despite it being a popcorn cinema.
You don't have to work out your brain trying to understand the concept or analyze the details. You simply have to enjoy the movie for what it is, which is a massive ride of disaster one after the other.
It packs clichés and soap-opera-ish drama as you get to watch even the minor characters get their emotional moment (which only prolonged the story). As with other films from Roland Emmerich, 2012 is not what you can actually call a good emotional cinema. It lacks in human drama although it highlights a father's plight to save his family from the disaster.
What really grips your attention is the cataclysmic action. This is what you call a general disaster movie because its best features are the explosions, the horrors of the catastrophe, and the magnitude of the destruction. This film is definitely subjective: you either love it or hate it.
Directors: Roland Emmerich – Screenplay: Roland Emmerich, Harald Kloser – Cast: John Cusack, Thandie Newton, Chiwetel Ejiofor, Amanda Peet, Oliver Platt – Run Time: 2h 38m
11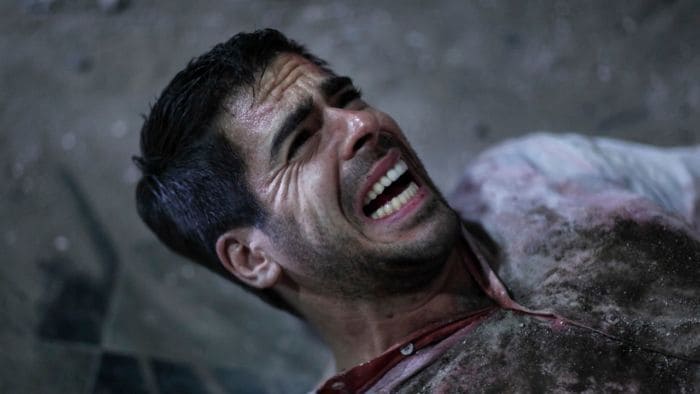 Aftershock (2012)
If you're looking for a dark disaster film with a touch of horror then watch Aftershock, which goes beyond the tsunami premise. When you have Eli Roth (Hemlock Grove, Cabin Fever) as one of the screenwriters, then you can bet the story is bound to get gruesome.
The story follows a group of earthquake survivors who seeks shelter amid a tsunami warning. However, they soon realize that they must live out not just Mother Nature's wrath, but also the threat of their own kind when a nearby prison collapses and its dangerous inhabitants escape.
Mayhem and death immediately follow as the criminals ravage the city, killing, raping, and stealing everything they can find. The situation quickly spirals out of control and turns into a nightmare. Things quickly escalate and become very violent and bloody.
This film truly stands by its tagline, "The only thing more terrifying than Mother Nature is human nature." The story swiftly swayed from the natural disaster premise to focus on the monstrosity of the inmates as they go about their evil ways while the others desperately try to avoid their path and seek safety amid the blaring sound of the tsunami warning.
The story becomes surreal but in some ways shows a bit of reality especially when in times of disaster: people still think to steal and kill for their own good.
Directors: Nicolás López – Screenplay: Eli Roth, Nicolás López – Cast: Eli Roth, Ariel Levy, Nicolás Martínez, Andrea Osvárt – Run Time: 1h 29m
12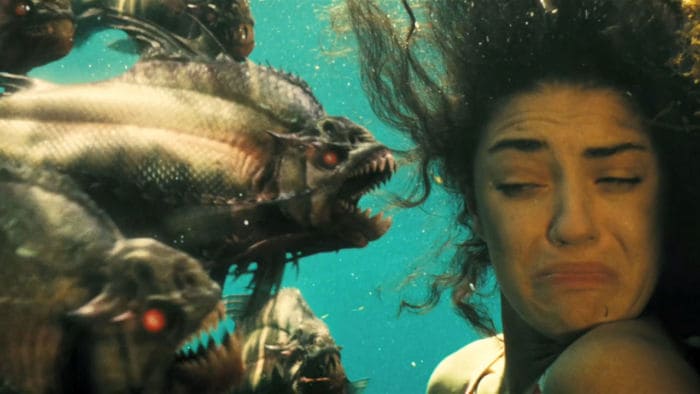 Piranha (2010)
Who knew a disaster movie about piranhas can be as entertaining and exhilarating as watching a horror or action film? When you have hordes of these pre-historic flesh-eating fishes torment guests at a popular resort, then chaos and destruction of another kind are bound to ensue.
This film especially caters those who have an insatiable appetite for gore. It's a disaster movie in itself because of the mayhem the piranhas bring.
Don't expect a complex and smart story because it has none of the two. It's full of sleaziness and stupidity which are meant to lighten the mood and bring fun to what could have been a bloody film with a simple plot of fishes attacking humans.
Directors: Alexandre Aja – Screenplay: Pete Goldfinger, Josh Stolberg – Cast: Elisabeth Shue, Jerry O'Connell, Richard Dreyfuss, Christopher Lloyd – Run Time: 1h 28m
13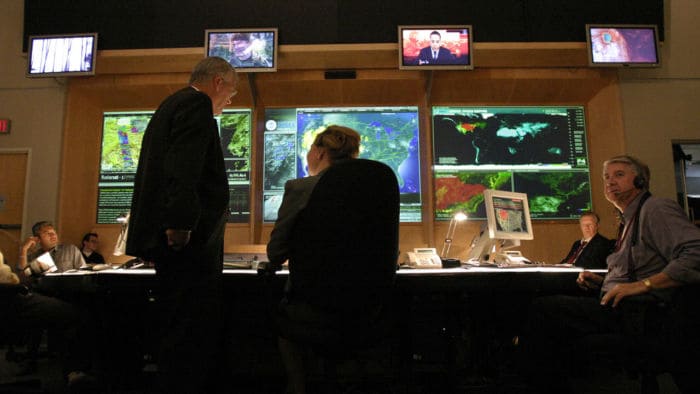 Supervolcano (2005)
A film about the possibility of a supervolcanic eruption is no laughing matter especially when it involves the popular Yellowstone National Park, which sits atop a volcanic hot spot. When you have a real-life supervolcano at the heart of a fictional disaster movie then it's bound to create a sense of dread and panic.
In this film, a magma leak from the Yellowstone is initially taken lightly by residents. However, when news of a possible massive eruption breaks, people of the world feel threatened. The disaster does happen and leaves millions of people dead and others barely alive in bunkers.
The US as we know it is never the same following the explosion. It becomes uninhabitable and beyond saving with the dangerous ash covering the atmosphere and dead people buried behind molten lava.
If you're in for a slow but realistic disaster movie that gives you scientific knowledge behind a volcanic eruption, then Supervolcano does that for you. It's not all about the gnarly and horrific deaths.
Directors: Tony Mitchell – Screenplay: Edward Canfor-Dumas – Cast: Michael Riley, Gary Lewis, Shaun Johnston – Run Time: 2h
14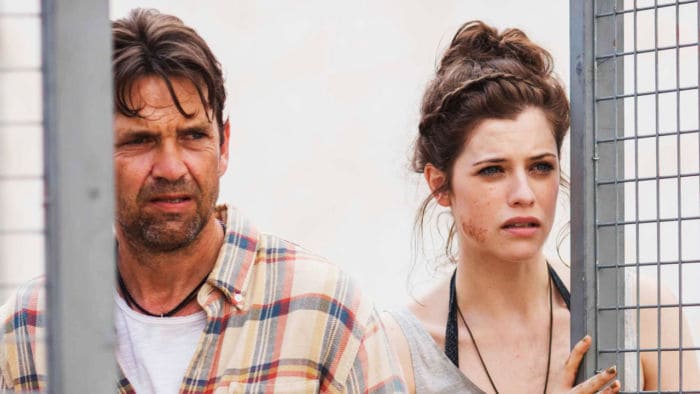 The Rezort (2015)
Set in a time when the humans have outsmarted and outlived the zombies and the authorities are once again in control and are quick to dispose of any zombie that crosses anyone's path. It's a period when people make a hobby out of shooting at the undead.
Humans, especially the rich, go to an amusement resort where they live out their anger and exact their revenge against these monsters. The resort gives them the chance to shoot at the restrained zombies in the wild.
However, little do the guests know that they are in a highly controlled environment where the hosts make sure that the undead are kept at a shooting distance. Things take a turn for the worst when curiosity gets the better of one of the visitors enters the control room, changes the setting, and inadvertently unleashes a fresh outbreak.
The visitors' safety disappears in a blink of an eye and the living dead once again partake of human flesh. Think of this film as Jurassic Park but instead of dinosaurs you have zombies wreaking havoc and devouring humans.
This film doesn't have any stellar reviews at all and even has unexceptional cast. The only familiar name on the list is Dougray Scott. It has an intriguing and promising concept though that sadly didn't live up to its expectation due to the poor screenplay, lack of action, and character story.
The plot is also predictable and needs more room for exploration. Regardless, if you're looking for another entertaining zombie flick then The Rezort is one of them.
Directors: Steve Barker – Screenplay: Paul Gerstenberger – Cast: Dougray Scott, Jessica De Gouw, Martin McCann, Claire Goose – Run Time: 1h 33m
15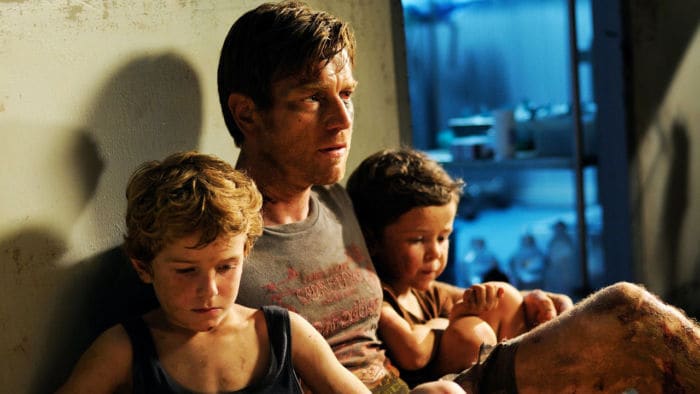 The Impossible (2012)
Probably the best disaster film is The Impossible, which is based on the massive tsunami that hit Southeast Asia in 2004. It came in surprise killing thousands and displacing facilities and homes.
The film's story focuses on one family's harrowing experience as one of the victims and survivors. What starts out as a happy vacation at a resort turns into a traumatic experience for the family who got separated by tragedy but never lost hope.
Be warned this is no easy watch. It's an emotional rollercoaster from the moment the disaster strikes to the very end.
The effects are utterly satisfying even when the wave rolls you are instantly hit with a feeling of doom. Coupled with the visceral quality to the sound and atmosphere, you really gravitate toward the plight of the survivors to reconcile with their families.
This film is not for everyone especially for the faint of heart. It's a disaster film that's very affective, effective, and compelling in its retelling of an actual tragic event.
The cast is remarkable and excels in captivating viewers and eliciting raw human emotions of despair, sorrow, and terror. Even the young actors held up their end on the acting level.
You can see the fear in everyone's eyes, in their voice, and their body language. You feel their anguish and desperation. You cry with them out of joy and sorrow.
The Impossible is filmmaking at its finest with a stellar cast full of chemistry and smart compelling storytelling. It's very realistic and resembles the exact situation and emotions that people face during or in the aftermath of a disaster.
Despite it being a disaster movie, it never falters in its message about the importance of family love, of hope, and of believing in miracles. It also touches on the important theme of unity regardless of gender, race, and nationality.
Directors: J.A. Bayona – Screenplay: Sergio G. Sánchez, María Belón – Cast: Naomi Watts, Ewan McGregor, Tom Holland – Run Time: 1h 54m
16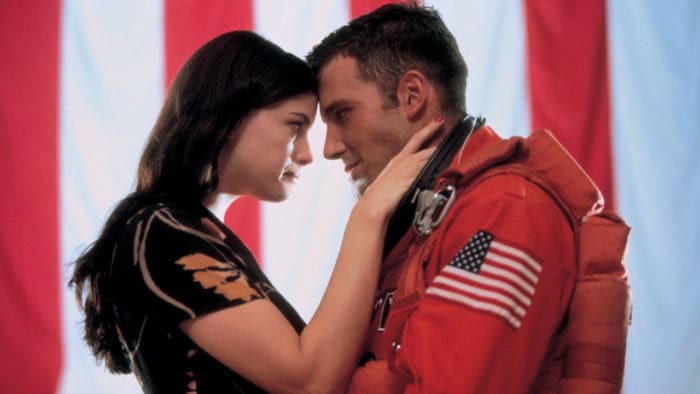 Armageddon (1998)
Armageddon is a timeless disaster film and a famous one at that, despite its lack of complex premise and compelling storytelling. It's one of those movies that quickly come to mind when we think of a disaster film about asteroids and space missions.
This star-studded action-adventure and sci-fi film is purely for enjoyment and adrenaline rush. If you're looking for something with more context and depth in the story, then look elsewhere (try Interstellar or the First Man).
Armageddon's story is as simple as it gets. A giant asteroid the size of Texas is bound for Earth and if its strikes, it could mean the end of all of humankind and other living things for that matter. NASA and the U.S military join forces to stop this tragedy from happening.
They have roughly 18 days before the asteroid strikes and they decide to place the fate of all the people on complete strangers. It's up to a ragtag team of misfit drillers and geologists to save the day and so they embark on a space mission to save Earth and risk their lives in the process.
Despite its mixed reviews: some call it lackluster and too melodramatic, while others praise it for its entertainment factor, this movie is still worth a watch not only because Ben Affleck and Bruce Willis are in it. It packs thrill, tension, excitement, and the special effects are spectacular, something that should be expected from a Michael Bay film.
There are also moments that play with your emotions, so Armageddon is not just a disaster film per se. It's also a movie about father-daughter relationships and about the making of heroes out of ordinary men.
Director: Michael Bay – Screenplay: Jonathan Hensleigh, J.J. Abrams – Cast: Bruce Willis, Billy Bob Thornton, Ben Affleck, Steve Buscemi, Owen Wilson – Run Time: 2h 31m